MISSOULA — Dreams are made every year when the NFL Draft rolls around, and for Justin Ford, he's not sure what will go through his mind if he hears his name called.
"I've thought about it, I really don't know what is going to happen," Ford recently told MTN Sports. "I'm not too much of an emotional person but that moment might get me. That's something I dreamed about."
The draft begins this Thursday in Kansas City, Missouri, and runs through Saturday, and after two All-America campaigns at the University of Montana, Ford is ready to take that next step into the professional ranks.
But as any football guy does, it's about taking it day-by-day, and living in the moment.
"I tell people I feel like I deserve to hear my name called, but at the end of the day, I don't go in with no expectations, man," Ford said. "It's going to go however it's going to go. I've kind of been like that my whole career. I'm like things have been up and down the whole time, but I feel like I've always survived and thrived in it so really had no expectations like going through it.
"It would just be cool to go through the process and just take it everyday. I don't really look too much into the future. I just got to focus on today and getting better for today and the next day, and that's just how it's going to go and I also got that from a couple of NFL players, is like that's how you've got to act and go about the process is just staying in the moment, because the moment is very important and there's you can do to change the future really but stay in the moment and make today better."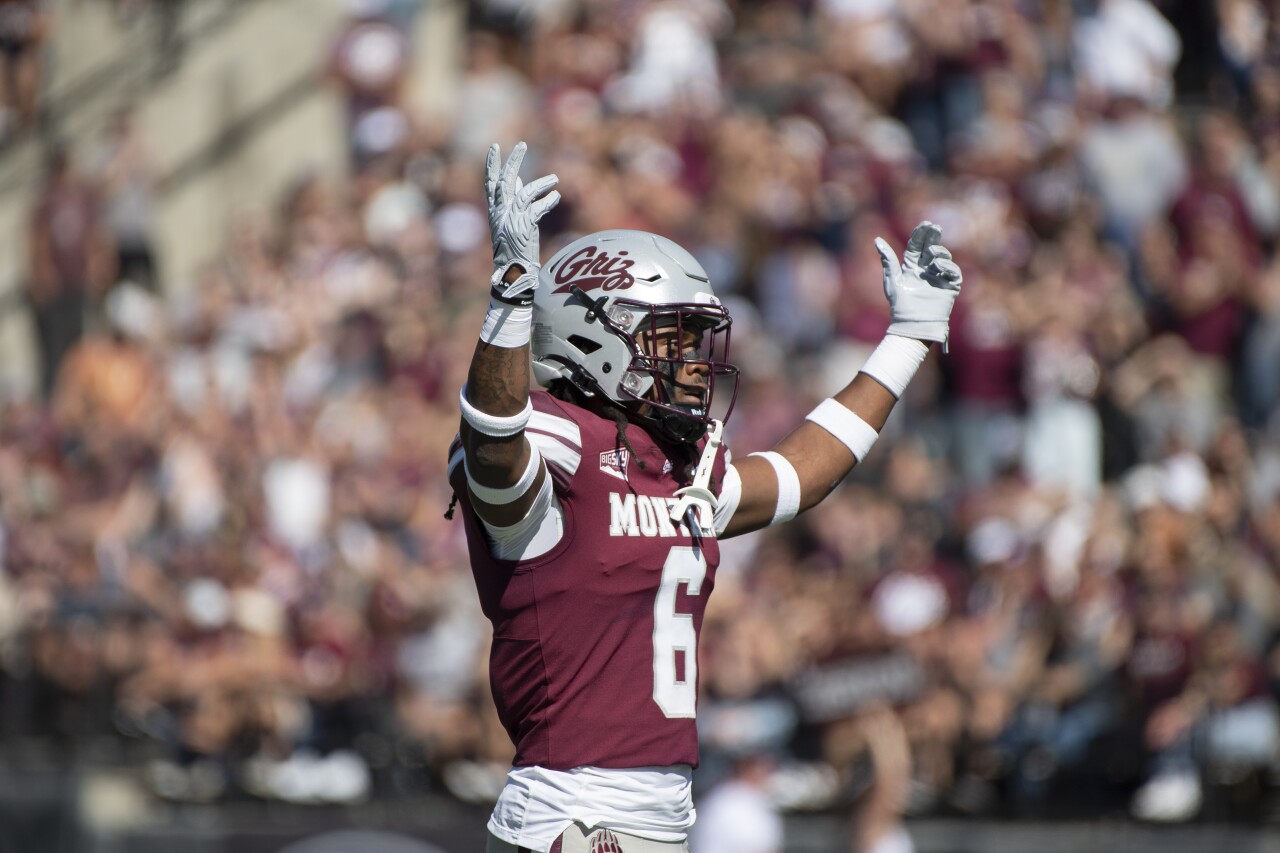 Ford made an immediate impact with the Griz when he arrived from Louisville in 2020 as a shutdown corner, and fan favorite for his big hits and passionate play.
Once his college career closed, Ford went down to Miami, Florida, at the start of the New Year and began training for UM's Pro Day which occurred earlier this month. For four months, Monday through Saturday, 9 a.m. to 5 p.m., he trained with other college prospects, as well as some current NFL players, where he met one of his idols, NFL veteran corner and Pro Bowler Xavier Rhodes.
"But just understanding like what he does as a person, I felt like that helped me because I know somewhere where I want to be and he had a great career," Ford said. "He's probably going to be in the Hall of Fame and that's somewhere I want to be. Just seeing him, interacting with him, getting pointers of like what to do, what coaches look for in a player, how to operate outside of football because it's bigger than the game. It was big for me."
Ford also represented UM in the Hula Bowl in January alongside fellow Grizzly and NFL prospect Patrick O'Connell.
When training, the day would start with treatment in the morning, followed by drills, agility workouts, more treatment, lunch, then speed training and potentially more treatment depending on the situation.
Acceleration was big for Ford to work on. Technique was also paramount in his training.
"I had a specific group that I was working out with every day, getting to know the guys and just understanding like what everybody is trying to accomplish is the same goal, and then being around NFL players," Ford said. "Seeing how big they are, seeing how fast they are and understanding that this is where I want to be, and it's what I have to be. And understanding I'm not too far away from anybody if not right there so just seeing that will make you a believer almost and my group was pushing everybody hard and we were kind of similar to times so everyday waking up trying to be the fastest and I think that ultimately pushed me to be better than I was when I got there."
Ford understands the nuances of football, like taking care of his body, and how to approach the game, knowledge and assets he honed in on in training and now brings to the table at the next level.
"Some NFL teams asked me what are my hobbies, and once you understand how to be great at this game, you kind of don't have hobbies," he said. "In your off time you have to do treatment to get better, you have to watch film to get a jump on your opponent so it's like those become your hobbies and you start understanding what all goes into being a great player."
Ford's appreciation for his time at UM was also key. A native of Concord, North Carolina, he came to Missoula from the University of Louisville, and wasn't sure what to expect.
But in two years on the field with the Grizzlies, he blossomed and ran with his opportunity.
"I love Montana man. Everybody that asked me, I had nothing but great things to say not only about the place, the fans, the coaching staff, my teammates," Ford said. "I'm just so grateful that I ended up here. And to be honest, it wasn't always like that, like when I signed here I didn't know what I was going to get, and I'm just so happy, excited that it went the way it did.
"Ultimately I wanted to win a national championship, but the bonds I built with my teammates, the bond I have with my coaching staff and the environment, like it made up for whatever was lost on the field and whatever we did win. I graduated from here, so I'm glad I'm an alumni of the school. I'll always probably be involved in the environment, the community. I want to do something in the community when I come back type of thing. I love being here."
Griz fans saw firsthand what Ford was capable of, and the time is almost here to see who will find out next.
Teams are officially on the clock on Thursday. So too, is Justin Ford.
"I've always said I wanted to be an NFL player so going through this process, talking to NFL players, realizing I'm going to become one very soon, or have a chance to be one very soon, is just like amazing to me, and that's everything I've asked for so for me this is a dream come true," Ford said. "Hopefully it does come true and I know I've put the work in to be there."