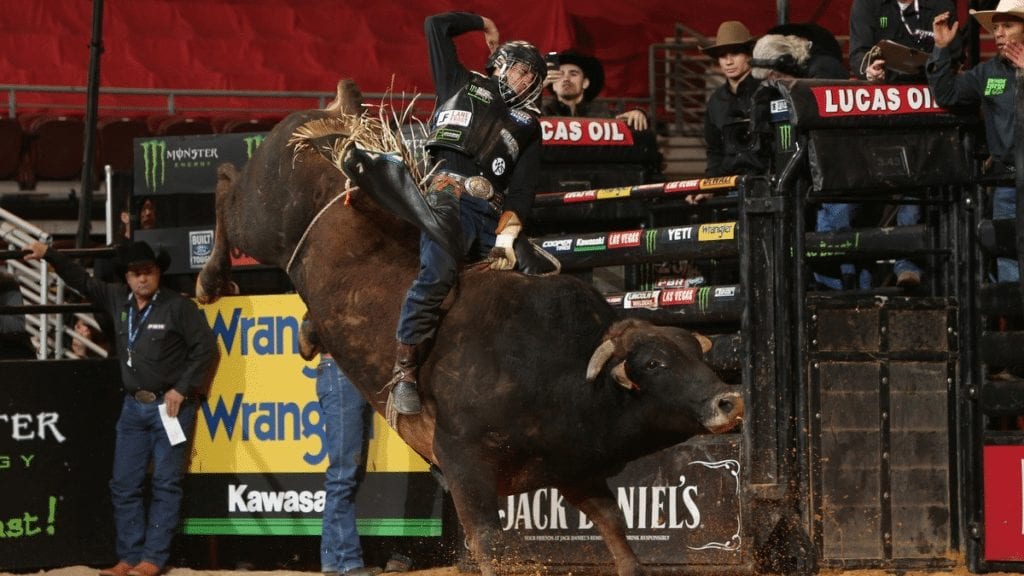 (PBR release)
LOS ANGELES – As the energetic California crowd cheered, PBR (Professional Bull Riders) young gun Cannon Cravens (Porum, Oklahoma) won the opening round of Iron Cowboy, presented by Ariat on Friday night at the event's debut in STAPLES Center.
18-year-old Cravens was one of only 18 cowboys to record qualified rides in Round 1 as he conquered Heartless (Goodride Apparel/Wallgren & Hale Bull Co.) and claimed his second round win of the 2019 season. The 87.25-point ride earned him 125 world points and the top seat on the leaderboard as Round 1 came to a close.
The prestigious event is one of four PBR Majors, the highest-profile events of the regular season in which the top stars of the PBR — bull riders and bulls — compete in unique formats that offer increased world standings points and prize money.
With a minimum of 25 riders required to advance to Round 2, the remaining seven draw spots were filled by the world standings at the start of Iron Cowboy.
Brennon Eldred (Sulphur, Oklahoma) collected 75 world points for his second-place finish in Los Angeles' opening round. His 86.75-point ride aboard Springer Mountain (Dakota Rodeo/Chad Berger/Clay Struve) brought the crowd to its feet.
Alan de Souza (Taubate, Sao Paulo, Brazil) collected a third-place finish when he made the 8 seconds on Dynamite Cap (Wallgren & Hale Bull Co./Randy Wood). The 86.25-point ride earned him 60 world points.
Fellow Brazilian Emilio Resende (Santa Helena do Goias, Brazil) did not disappoint the fans as he turned in an impressive 85.75-point ride atop Acting Crazy (Dakota Rodeo/Chad Berger/Clay Struve/Stacy Wilkes/N Bar Ranch). His fourth-place finish earned him 50 world points.
Washington cowboy, Derek Kolbaba (Walla Walla, Washington) rounded out the Top 5. Kolbaba rode Force Awaken (Jane Clark/Gene Owen) for 85.25 points. For his efforts, he collected 40 world points.
The best bull riders in the world will return to STAPLES Center on Saturday, February 23 for Round 2 of Iron Cowboy, presented by Ariat, until only one remains as the dust settles.
If all riders buck off in Rounds 2, 3 or 4 then all riders who attempted a bull advance to the next round. If there is more than one ride in the final round (Round 5), then the Iron Cowboy will be the rider with the highest-ride score in Round 5. If there are no rides in Round 5, then the Iron Cowboy will be the rider with the most round points who competed in Round 5.
PBR Unleash The Beast – Iron Cowboy
STAPLES Center, Los Angeles, California
Event Leaders (Round 1-Round 2-Round 3-Round 4-Event Aggregate-Event Points)
Riders bolded below advanced to Round 2
1. Cannon Cravens, 87.25-0-0-0-0-87.25-125 Points.
2. Brennon Eldred, 86.75-0-0-0-0-86.75-75 Points.
3. Alan de Souza, 86.25-0-0-0-0-86.25-60 Points.
4. Emilio Resende, 85.75-0-0-0-0-85.75-50 Points. (Broken collarbone; will not advance)
5. Derek Kolbaba, 85.25-0-0-0-0-85.25-40 Points.
6. Jose Vitor Leme, 84.75-0-0-0-0-84.75-11.66 Points.
(tie). Ezekiel Mitchell, 84.75-0-0-0-0-84.75-11.66 Points.
(tie). Mason Taylor, 84.75-0-0-0-0-84.75-11.66 Points.
9. Chase Outlaw, 84-0-0-0-0-84.00-5 Points.
(tie). João Ricardo Vieira, 84.5-0-0-0-0-84.50-5 Points.
(tie). Silvano Alves, 81-0-0-0-0-81.00-5 Points.
(tie). Lucas Divino, 83.25-0-0-0-0-83.25-5 Points.
(tie). Cody Nance, 84.25-0-0-0-0-84.25-5 Points.
(tie). Tanner Byrne, 84-0-0-0-0-84.00-5 Points.
(tie). Stetson Lawrence, 84.5-0-0-0-0-84.50-5 Points.
16. Dakota Buttar, 80.25-0-0-0-0-80.25
17. Taylor Toves, 77.75-0-0-0-0-77.75
18. Colten Jesse, 77.5-0-0-0-0-77.50
Ryan Dirteater, 0-0-0-0-0-0.00
Luciano De Castro, 0-0-0-0-0-0.00
Cody Jesus, 0-0-0-0-0-0.00
Cooper Davis, 0-0-0-0-0-0.00
Claudio Montanha Jr., 0-0-0-0-0-0.00
Rubens Barbosa, 0-0-0-0-0-0.00
Alisson De Souza, 0-0-0-0-0-0.00
Danilo Carlos Sobrinho, 0-0-0-0-0-0.00
Junio Quaresima, 0-0-0-0-0-0.00
Sean Willingham, 0-0-0-0-0-0.00
Ouncie Mitchell, 0-0-0-0-0-0.00
Cody Teel, 0-0-0-0-0-0.00
Matt Triplett, 0-0-0-0-0-0.00
Dylan Smith, 0-0-0-0-0-0.00
Koal Livingston, 0-0-0-0-0-0.00
Alex Marcilio, 0-0-0-0-0-0.00
Keyshawn Whitehorse, 0-0-0-0-0-0.00
Ramon de Lima, 0-0-0-0-0-0.00
Marco Antônio Eguchi, 0-0-0-0-0-0.00
Eduardo Aparecido, 0-0-0-0-0-0.00
Kaique Pacheco, 0-0-0-0-0-0.00
Francisco Garcia Torres, 0-0-0-0-0-0.00