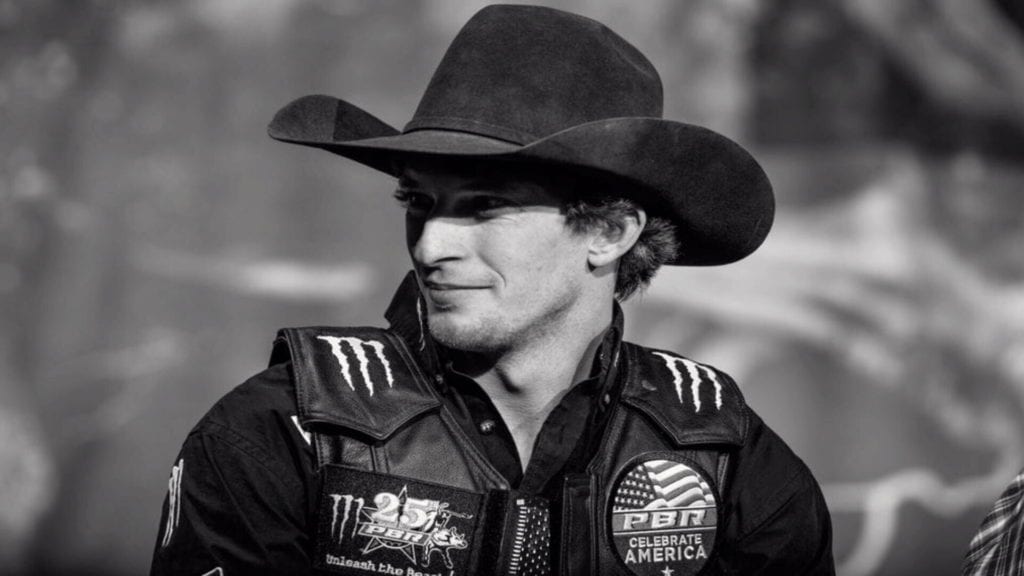 (PBR release)
ST. LOUIS – With tears in his eyes, Chase Outlaw (Hamburg, Arkansas) said the victory at the Mason Lowe Memorial in St. Louis on Saturday night might be the most special of his career. Outlaw said he is dedicating the win to his fallen friend, Mason Lowe, who passed away one month ago.
With his arm around Lowe's wife, Abbey, Outlaw gazed at the buckle and said, "This might be the first buckle that I might not wear. Winning this buckle tonight just felt like it was meant to be."
After bucking off his first-round bull, Outlaw rode Lightning Before Thunder (Jenkins Cattle Co./Emerson Cattle) for 88.75 points in the second round of the two-day event. He then picked Big Black (K-C Bucking Bulls/Joe & Nina Webb), the black bovine that he bested for 90.25 points in Chicago earlier this year. The Arkansas cowboy improved on his first ride aboard the bull, scoring 91.5 points to win the championship round in St. Louis.
With his first win of the 2019 season, Outlaw continues to mount an unbelievable comeback from his wreck last summer in Cheyenne, Wyoming, in which he broke more than 30 bones in his face.
Outlaw earned 600 points toward the PBR world standings and is now ranked No. 2 in the world. He will also take home $40,480.
Finishing in second place was Colten Jesse (Konawa, Oklahoma) with his highest finish on the PBR Unleash The Beast.
Jesse put up 86 points aboard Show Train (Paradigm Bull Company) in Round 2 before going 8 on Mason's Missouri Golden (Dakota Rodeo/Chad Berger/Clay Struve/Heald Pro Bulls), the bull named for Mason Lowe, for 88.75 points in the championship round.
He earned 330 world points along with $19,150 and is now No. 11 in the world standings.
Finishing in third place was Cooper Davis (Buna, Texas). The 2016 PBR World Champion was in the lead going into the championship round but was unable to handle Stunt Man Ray (Broken Arrow Bucking Bulls), bucking off in 6.93 seconds.
Earlier in Round 2, Davis rode Rockafeller (Paradigm Bull Company) for 87.25 points. He earned 315 points toward the world standings along with $13,940 and is No. 8 in the world.
Alex Marcilio (Macaubal, Brazil) finished in fourth place, earning 120 world points along with $7,775. He rode Black Rose (Broken Arrow Bucking Bulls) in Round 2 for 87.25 points but was unable to cover his championship round bull, Bad Beagle.
Rounding out the Top 5 was Jose Vitor Leme (Ribas do Rio Pardo, Brazil) with 105 world points. Leme rode Kick Out The Lights (C Check Bucking Bulls) for 74.75 points in Round 2, but Preachers Kid (RD Cattle/K-C Bucking Bulls) proved too much for the 2017 Rookie of the Year.
The YETI "Built for the Wild" Bull of the Event was Magic Train (Phenom Genetics/Sankey Pro Rodeo), who dispatched Koal Livingston (Burleson, Texas) in 4.58 seconds during the championship round.
The event in St. Louis was renamed the Mason Lowe Memorial after Missouri bull rider, Mason Lowe, tragically lost his life at a PBR event in Denver just one month ago. Fans can still donate to the Mason Lowe fund that was established by the National Western Stock Show and PBR. All funds will be sent to the Lowe family and donations can be made here.
The championship round from St. Louis will air on CBS on Sunday, Feb. 17 at 12:00 p.m. ET.
All the action from Round 2 and the championship round from St. Louis will be viewable Sunday starting at 8 a.m. ET on RidePass.com or via the RidePass mobile app.
Next up the Top 35 bull riders in the world will head to STAPLES Center in Los Angeles for the second PBR Major of the 2019 season with Iron Cowboy, presented by Ariat, on Feb. 22-23.
PBR Unleash The Beast
Mason Lowe Memorial
Enterprise Center, St. Louis, Missouri
Event Leaders (Round 1-Round 2-Round 3-Event Aggregate-Event Points)
1. Chase Outlaw, 0-88.75-91.5-180.25-600 Points.
2. Colten Jesse, 0-86-88.75-174.75-330 Points.
3. Cooper Davis, 86.25-87.25-0-173.50-315 Points.
4. Alex Marcilio, 0-87.25-0-87.25-120 Points.
5. Jose Vitor Leme, 81-74.75-0-155.75-105 Points.
6. Junio Quaresima, 86.25-0-0-86.25-100 Points.
7. Cannon Cravens, 0-87-0-87.00-85 Points.
8. Koal Livingston, 85.5-0-0-85.50-53.33 Points.
(tie). Kaique Pacheco, 85.5-0-0-85.50-53.33 Points.
10. Ezekiel Mitchell, 85-0-0-85.00-35 Points.
11. Keyshawn Whitehorse, 0-85.75-0-85.75-30 Points.
12. Joe Frost, 84.5-0-0-84.50-20 Points.
13. Sean Willingham, 0-85.5-0-85.50-13.33 Points.
14. Claudio Montanha Jr., 84.25-0-0-84.25-10 Points.
15. João Ricardo Vieira, 0-84.75-0-84.75-5 Points.
16. Eduardo Aparecido, 82.75-0-0-82.75
17. Alisson De Souza, 0-82.5-0-82.50
18. Ramon de Lima, 82.25-0-0-82.25
19. Lucas Divino, 81.75-0-0-81.75
20. Cody Nance, 77.5-0-0-77.50
Luciano De Castro, 0-0-0-0.00
Cody Jesus, 0-0-0-0.00
Rubens Barbosa, 0-0-0-0.00
Silvano Alves, 0-0-0-0.00
Danilo Carlos Sobrinho, 0-0-0-0.00
Brennon Eldred, 0-0-0-0.00
Ruger Piva, 0-0-0-0.00
Ouncie Mitchell, 0-0-0-0.00
Derek Kolbaba, 0-0-0-0.00
Cody Teel, 0-0-0-0.00
Dylan Smith, 0-0-0-0.00
Daniel Tinsman, 0-0-0-0.00
Scottie Knapp, 0-0-0-0.00
Emilio Resende, 0-0-0-0.00
Stetson Lawrence, 0-0-0-0.00
Marco Antônio Eguchi, 0-0-0-0.00
2019 PBR Unleash The Beast World Standings
(Place, Rider, Events, Wins, Top 5's, Points, Total Winnings)
1. Jess Lockwood, 11, 2, 6, 2,097.50, $201,564.42
2. Chase Outlaw, 12, 2, 3, 1,472.50, $102,461.48
3. João Ricardo Vieira, 11, 2, 2, 1,135.00, $119,298.61
4. Jose Vitor Leme, 11, 2, 7, 1,100.00, $114,767.50
5. Ryan Dirteater, 6, 1, 3, 835.00, $62,760.24
6. Luciano De Castro, 8, 0, 2, 772.50, $38,236.67
7. Cody Jesus, 9, 1, 3, 663.33, $63,800.24
8. Cooper Davis, 7, 1, 3, 615.00, $74,485.83
9. Claudio Montanha Jr., 10, 0, 2, 570.00, $70,756.94
10. Rubens Barbosa, 14, 0, 5, 542.50, $39,234.14
11. Colten Jesse, 8, 0, 1, 506.66, $42,158.79
12. Silvano Alves, 11, 0, 2, 485.00, $27,774.44
13. Lucas Divino, 13, 1, 3, 475.00, $28,355.99
14. Aaron Kleier, 8, 2, 4, 455.00, $27,484.47
15. Alisson De Souza, 9, 1, 2, 452.50, $16,945.50
16. Danilo Carlos Sobrinho, 8, 1, 3, 432.50, $26,353.35
17. Cannon Cravens, 8, 0, 1, 420.00, $42,828.57
18. Junio Quaresima, 12, 1, 4, 380.00, $21,986.25
19. Brennon Eldred, 13, 0, 3, 305.00, $42,855.07
20. Taylor Toves, 10, 1, 2, 297.50, $11,980.00
21. Sean Willingham, 8, 0, 2, 293.33, $14,525.00
22. Ezekiel Mitchell, 11, 1, 2, 275.00, $10,240.00
23. Mason Taylor, 6, 0, 3, 262.50, $12,130.00
24. Ruger Piva, 9, 2, 2, 257.50, $16,831.41
25. Cody Nance, 11, 1, 2, 255.00, $43,669.75
26. Ouncie Mitchell, 10, 0, 3, 245.00, $11,516.02
27. Derek Kolbaba, 11, 1, 1, 240.00, $84,015.19
28. Jason Mara, 4, 1, 2, 235.00, $16,308.33
29. Cody Teel, 9, 0, 2, 230.00, $39,911.00
30. Matt Triplett, 5, 0, 1, 225.00, $11,900.00
31. Dylan Smith, 6, 1, 1, 220.00, $6,800.00
32. Daniel Tinsman, 7, 1, 1, 215.00, $8,050.00
33. Tanner Byrne, 6, 0, 1, 210.00, $14,645.34
33. Scottie Knapp, 9, 1, 4, 210.00, $12,767.99
35. Marcus Mast, 6, 1, 2, 200.00, $9,022.72
36. Koal Livingston, 7, 0, 0, 193.33, $13,044.47
37. Joe Frost, 5, 1, 1, 192.50, $8,514.46
38. Dakota Buttar, 9, 0, 2, 190.00, $18,440.16
39. Emilio Resende, 7, 0, 0, 177.50, $12,300.00
40. Alex Marcilio, 7, 0, 2, 170.00, $12,886.67
40. Juan Carlos Contreras, 9, 0, 1, 170.00, $15,192.50
40. Alan de Souza, 7, 1, 1, 170.00, $7,900.00
40. Shay Marks, 3, 1, 1, 170.00, $7,100.00
44. Stetson Lawrence, 10, 0, 0, 163.33, $22,028.57
45. Mason Lowe, 6, 0, 3, 150.00, $9,901.31