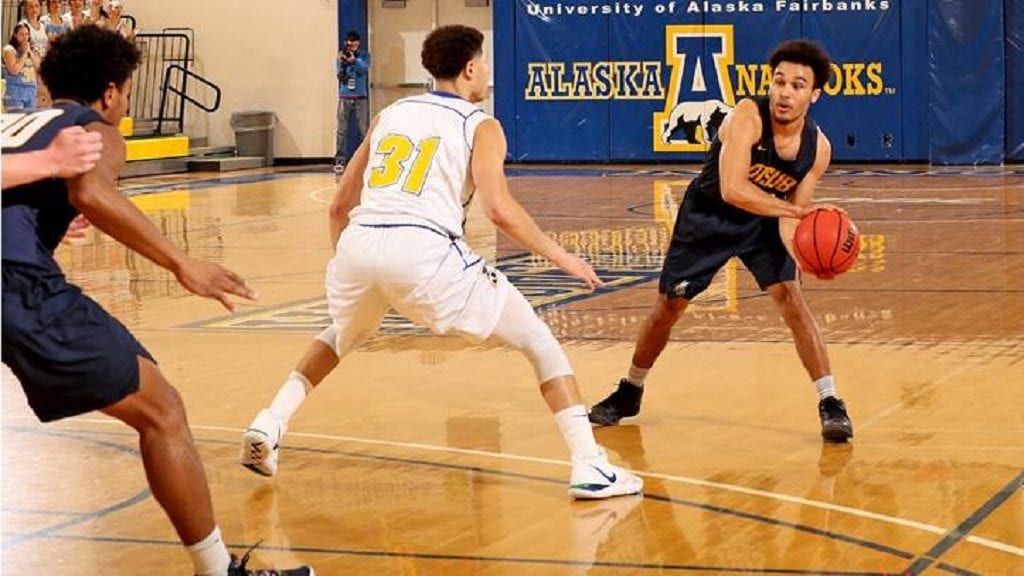 (MSU Billings release)
FAIRBANKS, Alaska — In dominant fashion, the Montana State University Billings men's basketball team clinched a position in the Great Northwest Athletic Conference post-season tournament with a 92-65 victory over University of Alaska Fairbanks Saturday night at Alaska Airlines Court. Freshman Brendan Howard led the way with 25 points and seven rebounds while senior Zack Rollins posted 19 points and seven rebounds in his final regular season game as a Yellowjacket.
"We came out and played determined basketball today and took care of business," commented head coach Mick Durham. "Thursday's win in Anchorage really set up this opportunity and we took advantage. Our two goals this season were to be a top-six team and to have a winning season and I'm excited for our guys to be able to achieve and experience that success."
MSU Billings established an early 10-3 lead and took command of the game in the first half 44-30. The offense continued the onslaught after the break and the Yellowjackets shot an impressive 68-percent in the final 20 minutes and led by as many 31 points with just under five minutes to play, snuffing out any attempt at a comeback from the home team.
The Yellowjackets (15-13, 10-10 GNAC) finished the regular season with more wins than losses for the first time since 2012-13 and will make a return to the post-season after finishing ninth in the GNAC a year ago. MSUB will place fifth or sixth in the conference, depending on other game results Saturday night. Alaska Fairbanks (5-22, 2-18 GNAC) ends its season on an eight game losing streak.
The 'Jackets did most of their offensive damage inside the paint. Howard was an integral part of the solution and shot 10-for-13, with frequent trips to the rim on his characteristic spin move. Howard shot 4-for-5 from the free throw line and the 'Jackets shot 10-for-13 (76-percent) from the stripe overall.
Rollins finished 6-for-9 from the field and 6-for-7 from three points range. He added seven boards, three assists, and one block. Zharon Richmond had 11 points for MSUB (4-for-11) with five rebounds. Senior Sven Jeuschede connected on four field goals for 11 points and three rebounds while Melvin Newbern Jr. and Kobe Terashima finished with nine points apiece.
The Nanooks were led by Michael Kluting, who had 27 points and 10 rebounds on 10 of 15 shooting. Alex Baham also had 15 points (5-for-11) for UAF.
MSU Billings shot 61-percent in the game with 46 points in the paint and 36 bench points. The Yellowjackets were excellent from long range with 12 made three-pointers (52-percent). Alaska Fairbanks shot 36-percent and 23-percent from beyond the arc (7-for-30). UAF went 12-for-18 from the free throw line (66-percent).
WHAT'S AHEAD: The GNAC Championships will take place March 7-9 in Bellingham, Washington at Sam Carver Gymnasium. The Yellowjackets will play in the quarterfinals with their opponent still to be determined. Howard ended the season as the team's top scorer with 436 points (15.6 points per game). Green was right behind with 435 points (15.5 points per game). Green, Rollins, and Jeuschede started all 28 regular season games for MSUB.
"We kept grinding throughout the entire conference schedule and finally put together a great road trip to get the sweep this weekend," Durham said. "We'll enjoy this tonight and see what shakes out for the tournament next week."
THE BUZZ: Brendan Howard earned St. Vincent Healthcare player of the game for MSUB…The Yellowjackets swept a two game road trip for the first time this season after beating Alaska Anchorage 67-56 Thursday night…MSUB swept the season series against Alaska Fairbanks 2-0 and improved to 43-29 all-time against the Nanooks.