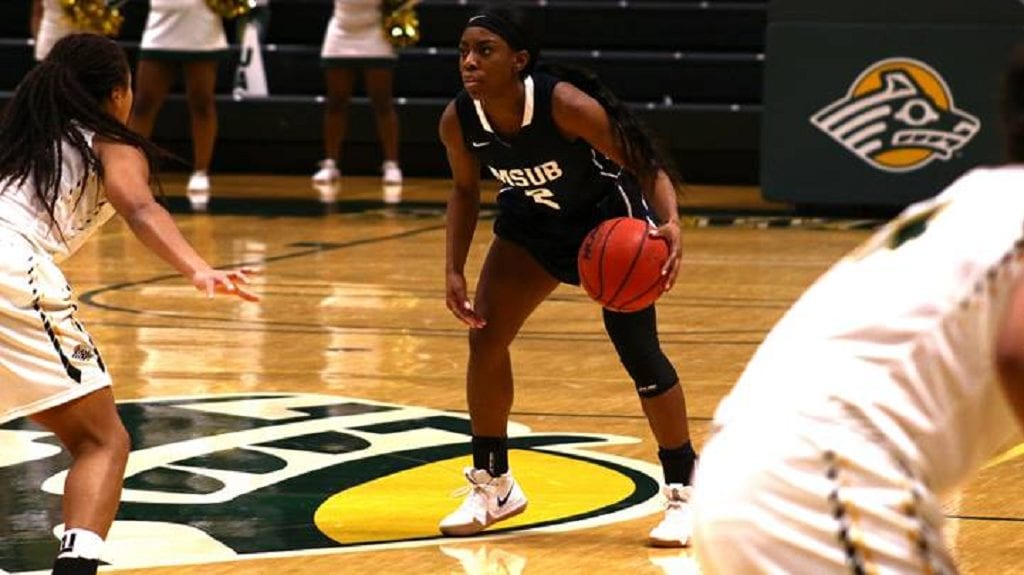 (MSU Billings release)
FAIRBANKS, Alas. – Hannah Collins matched her career high with 29 points and Vanessa Stavish chipped in her second-career double-double on Saturday afternoon at Alaska Airlines Court, and the Montana State University Billings women's basketball team topped Great Northwest Athletic Conference opponent University of Alaska 80-72.
"I was really proud of our team to respond to Thursday's defeat, and we shot the ball extremely well tonight," said MSUB head coach Kevin Woodin referring to an 87-42 setback at the hands of No. 14 University of Alaska Anchorage on Thursday. "Hannah was very good offensively, and she shot the ball well and pushed it well for us. Defensively in the fourth quarter we had a lot of stops, and we made a lot of winning plays late in the game."
The Nanooks grabbed a 12-11 advantage midway through a back-and-forth opening quarter, but Stavish's first trey of the game gave the 'Jackets a lead during a 7-0 run. Overall the senior shot 6-for-12 including connecting on three 3-pointers en route to 16 points. Her 11 rebounds were a career high, as she was a big factor in MSUB's 39-31 advantage in rebounding.
"We had a really tough loss on Thursday and we didn't shoot the ball well, so coming out tonight we knew we needed to shoot the ball better," Stavish commented after the game. "Fairbanks has been hot lately and has only lost by a few points in a couple games, and we knew that we had to play a complete game tonight."
Collins shot 9-for-15 from the floor and nailed a career-high five threes, while also making all six of her free throws for her second 29-point game of the year. The sophomore also had a game-high seven assists, while playing 37 minutes. MSUB improved to 7-5 overall and is even once again at 5-5 in the GNAC thanks to its first conference road victory of the year.
"Hannah played really well for us tonight," said Stavish. "She is very confident, and took care of the ball for us which was really important. It was good to see her come out with some fire, and she made some free throws down the stretch. We were really proud of her tonight."
The Nanooks lost their ninth straight game, falling to 3-9 overall and 0-6 in league play. UAF's GNAC winless drought extended to 28 consecutive games dating back to the end of the 2016-17 season.
Marian Wamsley had a career-high 23 points, as she made 8 of 17 shots and 7 of 9 free throws. Kylie Wallace matched her season high with 22 points on 9-for-19 shooting, and reached her career high with five steals. Emily Evans was also in double figures with 10 points, and led her team in rebounding with five.
"Wamsley was really good tonight, but we made her work hard," Woodin said.
Alaska continued to battle back in the second quarter, and a layup by Ashlie Blackburn made it a 24-22 edge for the home team with 7:39 before halftime. Collins scored the next five points however, and Janessa Williams hit a key jumper that helped MSUB maintain a 35-34 lead at halftime.
Woodin called a timeout just 57 seconds into the third quarter, after a pair of turnovers and a three by Sabrina Ungaro gave Alaska a 39-35 lead. An ensuing 13-0 run by MSUB wound up permanently switching momentum, as the 'Jackets turned the deficit into a nine-point lead and never trailed the rest of the night. Taylor Cunningham had back-to-back treys during the stretch, and Williams capped the run with a jumper on an assist from Collins. "Janessa came in off the bench and really gave us a spark tonight."
MSUB's lead reached 12 points with 4:34 left to go in the game, but the Nanooks wouldn't go away and kept it close down the stretch. Collins and Cunningham combined to go 8-for-8 from the free-throw line in the final minute, keeping the spread above two possessions through the final buzzer.
After making just 11 shots on Thursday and posting its worst shooting percentage in a game in 15 years, the 'Jackets tore it up at 28-for-58 (48.3 percent) overall and 13-for-27 (48.1 percent) from 3-point range. It was the team's second-most threes in a game this year and its top long-range shooting percentage. The 'Jackets, who entered the game No. 2 in the GNAC in free-throw percentage, made 11 of 12 shots from the line (91.7 percent) which was their second-best percentage of the season.
Alaska meanwhile shot 40.0 percent overall (26-for-65), but made just 6 of 19 threes (31.6 percent).
THE BUZZ: Stavish was picked as the St. Vincent Healthcare Player of the Game…her other double-double was in the regional title game against Alaska Anchorage on March 12, 2018 when she reached her previous career high of 10 boards…Collins' previous high was four 3-pointers…her 37 minutes played were a career high…Williams finished with 10 points for the third double-figure scoring game of her career…Taryn Shelley matched her season high with four blocks…MSUB is now 54-14 all-time and is 26-9 in games played in Fairbanks.
NEXT WEEK: The 'Jackets remain on the road next week, playing at Central Washington University next Thursday and at No. 5 Northwest Nazarene University next Saturday. Both games tip off at 7 p.m. local time, and live video with play-by-play commentary and live statistics will be available through the MSUB Stretch Internet portal online here.