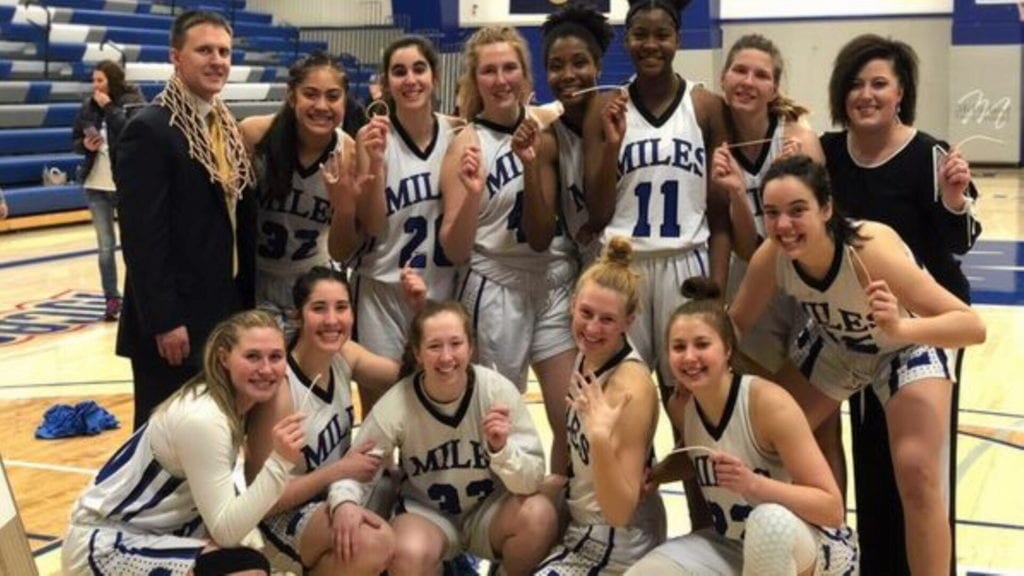 (MCC Athletics release)
Miles City – The Miles Community College basketball women are still perfect and headed to the Region IV tournament on Saturday.
Despite foul trouble in the Sunday's Region XIII Tournament championship, MCC pulled out an 82-75 win at home over Bismarck State. With that win the Pioneers improve to 32-0.
The Pioneers led 17-15 after one quarter and 42-33 at halftime. But the story of the second half was foul trouble for the Pioneers. Four players fouled out and two more were on the verge closing with four fouls apiece. Still, the Pioneers held off a late Mystics rally to become 2019 Region XIII Champions.
"I'm very thankful to have the opportunity to coach these young women," said MCC head coach Nate Vogel. "I'm just happy to be on this journey with them. Not only are they talented basketball players but they're even better people. I love coming to work everyday and being around my team."
Lucia Salazar was the leading scorer with 21, followed by Bre Moea'i with 15, Patrycja Jaworska with 12, and Claire Borot with 12. Moea'i led the team in rebounds with seven followed by Salazar with 6. Jaworska had six assists to lead the Pioneers and Salazar added four steals.
Patrycja Jaworska was named Region XIII Tournament Co-MVP and head coach Nate Vogel earned Region XIII Coach of the Year honors.
The Pioneers travel to Illinois to face the winner of Region IV on Saturday, March 9.