GREAT FALLS — Before this week, 11-year old John RattlingTail of Great Falls had never held or thrown a football.
"Well I watched football before and watched my friends play," he explained. "So I sort of had an understanding."
But on Thursday night at Memorial Stadium, he got to learn from the best.
The East team Shrine Game All-Stars took time out of their practice to show John the ropes. He learned how to hold the ball, how to set his feet, and how to throw a pass.
It meant the world to him, and he was happy to demonstrate to anyone who would watch.
"They told me to hold it like this with your two fingers above the stitch part, and have air in your palm so it's not touching the ball," he explained. "They're just friendly people."
John is a life long patient at the Shriners Hospital for Children in Spokane. He travels there every six months for treatment and checkups.
It's not clear why at first until he bends down, rolls up his pant leg and removes his prosthetic leg.
"I was born with fibular hemimilia. In my right leg there's two bones like normal kids have but in my left leg, I was born with only one bone in there," he explained. "I couldn't move it, so at two-and-a-half years old we amputated it. They cut off the front of my foot and gave me a prosthetic."
John was joined at practice by fellow Shriners patients Grant Brumwell (11) and Dakota Floerchinger (10). Brumwell was born with bilateral clubbed feet, while Floerchinger receives treatment for cerebral palsy which affects mobility.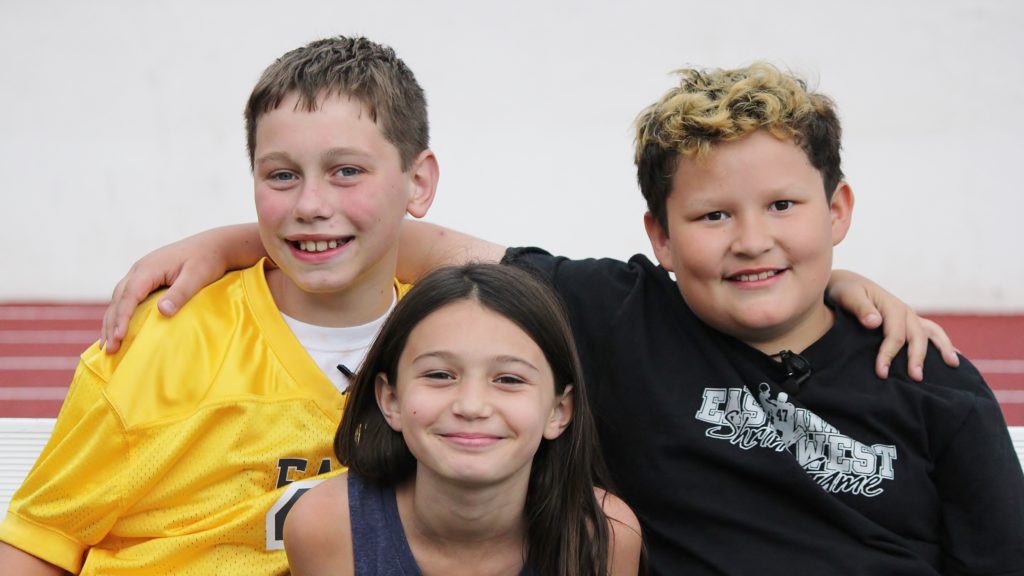 They are living, breathing reminders of why the Montana East-West Shrine Game, and the funds it raises are so vital. And their presence at practice made a lasting impact on the players.
Glendive guard Keegan Mires immediately bonded with RatlingTale over videogames, and made plans to play together while playing catch at practice.
"He could probably beat me in a couple video games. Fortnite, Rainbow Six and stuff like that. He got a kick out of that," Mires said. "The big picture in the Shrine game is we're just doing it to help people out. I love it to death. It's just a passion of mine and I love it. Just to put smiles on their face makes me happy."
So this weekend every pass, every tackle, and every touchdown will help improve the lives of kids like the three who attended practice and many more. And there's no better way to drive that point home, than to keep the kids front and center.
Something the players are more than willing to do.
"East on three," yelled John as he broke down the huddle.
He was wearing the helmet of Fairfield safety Ryder Meyer.
Meyer looked on and smiled.
"It's awesome, I think a lot of us take playing football for granted," Meyer said. "There's so many kids that don't have this available to them. I just can't wait to play for the kids that have dreams of playing football. And we get to do it everyday just for a hobby.
"So I'm honored to be able to play for them and represent the Shriners Hospital."
Kickoff for Saturday's 73rd Annual Montana East-West Shrine Game is 7 p.m. at Bob Green Field in Butte.