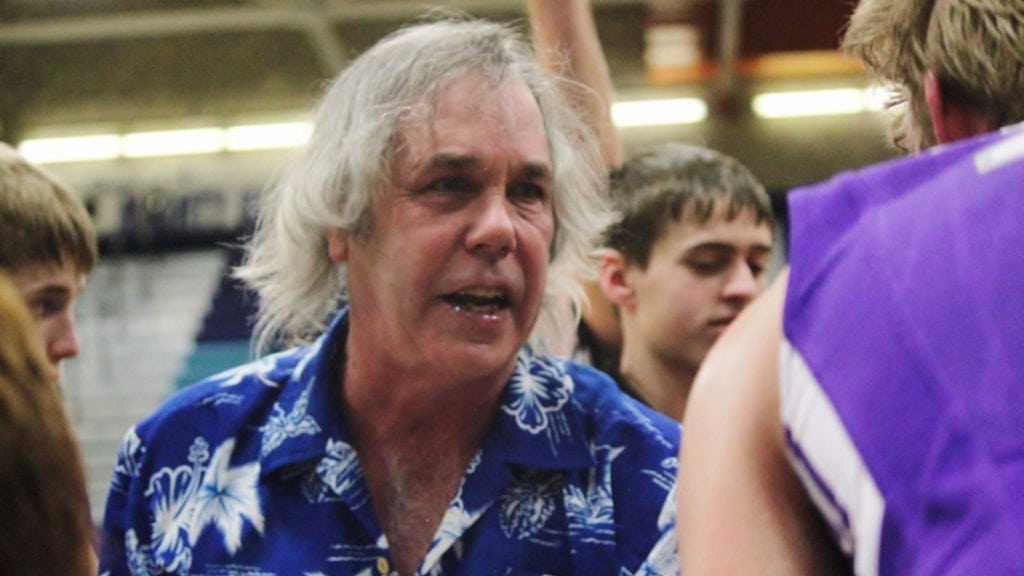 SWEET GRASS — Griff Bye coached more than 900 games in his storied career before passing away unexpectedly last week.
But the thing that made Bye special wasn't his ability to win basketball games. It was his ability to make friends. Monday afternoon, thousands of those friends met at his family farm near Sunburst to celebrate the life of a one of a kind Montanan.
"There's only one person in the state of Montana that went by his first name and everybody knew him," laughed Belt head coach and longtime friend Jeff Graham. "That's Griff."
Josh Larson knew Bye as well as anyone. He grew up playing basketball around Bye and played adult league softball with him for years. Speaking to the sizable crowd at Farbo Farms, he praised Griff's ability to make everyone feel like a friend, even if they were strangers seconds earlier.
"To know him is to love him," Larson said. "Even if you met him one time on the street, you knew who Griff was. And he treated you like you were one of his best friends for the 10, 15 minutes or two-hour conversation you might have with this stranger."
On Monday, the tiny town of Sweet Grass, Montana looked like Waikiki Beach. A large portion of the attendees wore Hawaiian shirts to pay tribute to Bye's trademark sense of style. But Griff was more than just wild hair and colorful shirts.
He had the personality to match.
Chase Rossmiller graduated from Power High School in 2016 and played on the Pirates basketball team for two years under Bye. He even worked at his coach's farm in the offseason and learned first-hand that Bye could wear whatever he wanted and people would still be drawn to him.
"Griff taught me to really just be yourself and work hard," said Rossmiller, now a sophomore football player at Presentation College. "And if it means wearing hawaiian shirts when you're coaching or working with your wild hair, just do it. He's a guy you want to live your life like."
Everybody has a Griff Bye story, and many aren't safe for publication. But every story told about Griff ends with an example of just how much he cared for people. Whether it was his family, or the players he coached, or his rivals on the court, they were all friends in Griff's eyes.
Fairfield girls basketball coach Dustin Gordon became fast friends with Griff when he first started coaching while travelling to a rules clinic years ago. When Gordon first moved to Chester, Bye offered him a job working at his farm in the
offseason to help the rookie teacher make ends meet.
"We always made fun of him and say he's running on 'Bye time'," laughed Gordon. "And the reason is, he couldn't go anywhere and just say hello. He's got to visit a little bit and get to know you. Just a very genuine, heartfelt man."
The word genuine came up a lot on Monday. Graham looked up the definition in the dictionary before delivering his eulogy.
"It means sincere and authentic," he said. "Those two words describe the Griffer well."
Tears mixed with laughter on Monday – and as the ceremony drew to a close, there were smiles as Griff's favorite song "Montana Café" was played by former Sunburst Refiner star Cash Ehlers. Smiles from friends – whose lives are that much better thanks to knowing a genuine Montana legend.