TURNER — 'To the world you may be one person, but to one person you are the world.'
Tristan Billmayer was the world to his family.
"He would walk into a room and his smile would brighten up the whole room," said his sister Ella Billmayer. "It was amazing, the effect he had on people."
"He was the first one to go up to anyone on the street and say 'hi'," recalled his father Adam Billmayer. "He was never bashful. And if he was, it was only for a few seconds."
From the outside looking in, Tristan Billmayer had the perfect life. He was a standout athlete at Turner High School, and was named Homecoming King as a senior. He belonged to a tight knit family that did everything together.
But inside Tristan was hurting.
And on May 2nd, 2015 he took his own life. An act that left his community reeling and his family broken.
Over a year later, the wounds are still healing.
"It's hard," begins Ella. "Not only on us, but the whole community."
Tears welled in her eyes.
"I know we're not the only family to go through this," she said. "But it's something that affected all of us."
In the immediate aftermath, Tristan's parents Adam and Shawna struggled with the fact of what their son had done in the haze of shock. They wanted answers. Could this have been prevented? Should we have seen something?
"That's the thing when I look back now," Shawna said. "There's little things that flash back in my mind."
"Mental illness is something that's not always heard or seen," Adam said. "It's seen if you knew some of the triggers you should look for. After we looked back, we see a lot of them. We were just not educated on it. And we missed it."
Since then, the Billmayers have learned a lot about teen suicide. According to the Montana Office of Public Instruction, suicide is the second leading cause of preventable death among people aged 15-24 in Montana, a rate more than double the national average (23 suicides per 100,000 individuals in Montana to 10.34 nationwide in 2013). It's an epidemic in small Montana communities.
Truth is – the Billmayers are still looking for answers. No one knows what drove Tristan to choose suicide. But the family knew they wanted to do something about it. So they did.
Ella attended the 2015 Hugh O'Brian Youth Leadership Foundation (HOBY) seminar just weeks after her brother's death and came up with the idea to hold a suicide prevention and awareness walk in Tristan's honor.
"It would mean the world to me to help somebody in a tough situation," Ella said. "That's what we're here for. We're here to prevent that from happening again."

The first Tristan Billmayer Memorial Walk was held on September 11, 2015 just over four months after Tristan passed away. The second annual event was held this past Saturday, September 24th. Nearly three hundred friends, family members and complete strangers walked the eight miles from Hogeland to Turner with one goal. To spread awareness and encourage people to get educated on suicide prevention.
"I hope more people do it," Shawna said. "I've received so many messages of support and so many text messages from people. There are people all across the country today walking with us. So that just means a lot. Our message is getting out there."
The walk offered time for the Billmayers to reflect. With each step, Adam's thoughts drifted toward his son.
"Of course I think about him," Adam said. "I think about him everyday."
He looked down and paused.
"You just don't want anyone else to go through this hurt. So I guess that's why we're doing it. If it prevents one (suicide) it's totally worth it."
"I never imagined I'd be doing something like this," Shawna said. "And I don't know if it's right or wrong but it makes me feel better."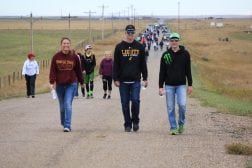 Through the support of their friends and family, the Billmayers have begun to heal. They plan to make the walk an annual event and will use the funds raised to bring speakers to schools and increase mental health education in Turner and the surrounding communities.
None of this will bring Tristan back. He, along with Ella and younger siblings Sarah and Trent – are his parents' world. So they can only hope to prevent other families from having their world turned upside down.
"You always want to look at the positives in life," Adam said. "That's what carries you through. And thank God we have a lot of good people that have helped us through this. Hopefully we can help provide some support for other people.
"It's not fun and it's not easy. But we'll make it."
One day and one step at a time.
(EDITOR'S NOTE: We know there are people out there today who are suffering in silence. Mental health and suicide can be difficult to discuss. But there is help. You can call the Montana Suicide Prevention Hotline at 1-800-273-TALK and find resources and information about suicide at this link.)