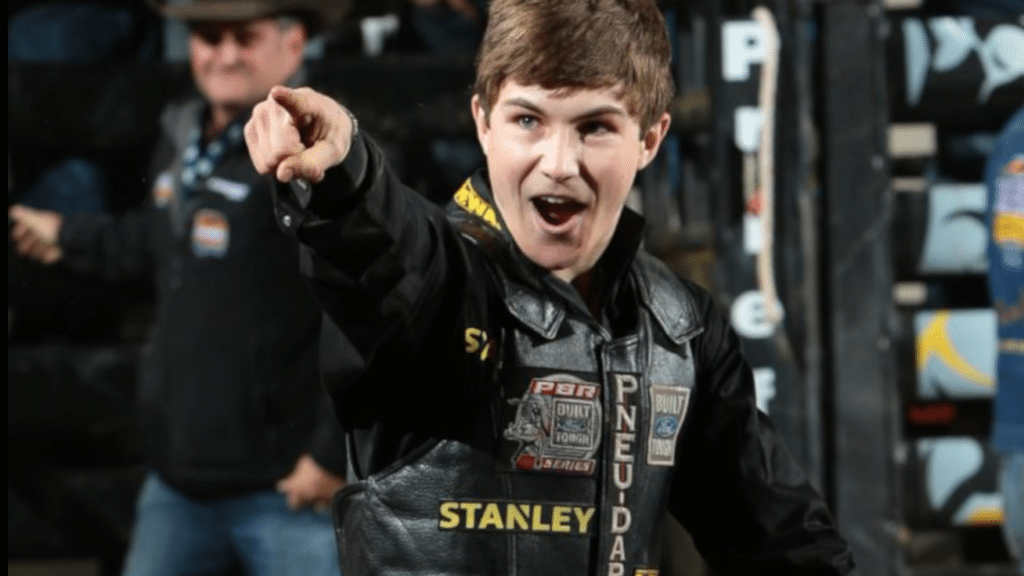 (PBR release)
ALBUQUERQUE, N.M. – 2017 World Champion Jess Lockwood (Volborg, Montana) brought the packed DreamStyle Arena in Albuquerque to its feet as he recorded a monster 91.25-point ride aboard Bad Decisions (TNT Bucking Bulls/Hart Cattle Co.) during the 15/15 Bucking Battle at the Ty Murray Invitational, presented by Isleta Resort and Casino.
Lockwood was one of only three cowboys to make the 8 in the special round of competition. For his efforts, the Montana native earned $8,666.67 and 150 world points to move him from No.4 to No. 3 in the world standings.
Lockwood, in his quest for a second world championship, is now a mere 464.16 points behind world No. 1 Jose Vitor Leme (Ribas do Rio Pardo, Brazil).
2012 PRCA World Champion Cody Teel (Kountze, Texas) took home second place in the bucking battle matchups. The Texas cowboy squared off against Smooth Operator (Dakota Rodeo/Julie Rosen/Clay Struve/Chad Berger) and covered the 2019 PBR YETI World Champion Bull contender for 89.5 points to earn $6,666.67 and 90 world points.
"The Cherokee Kid" Ryan Dirteater (Hulbert, Oklahoma) was the third and final rider to record a score in the 15/15 and made history by conquering the previously unridden Fearless (D&H Cattle/Buck Cattle/Tommy Julian). Dirteater took the bovine athlete to the 8-second whistle for 89 points and ended Saturday night with $5,666.67 and 75 world points.
Earlier in the night, Montana cowboy Matt Triplett (Columbia Falls, Montana) unleashed the legendary roar of "The Pit" with an 88-point effort aboard Crazy Times (Hart Cattle Co./Hale/Randy Wood). With his second round win of the season, Triplett earned $3,580 and 100 world points moving him from No. 15 to No. 13 in the world standings.
Marco Antonio Eguchi (Poa, Sao Paulo, Brazil) came in second in Round 2 with an 87.75-point ride on American Made (Bert Jones Bucking Bulls). Eguchi earned $2,750 and 60 world points. The 2018 World Finals event winner now sits at No. 21 in the world standings.
Eguchi and Chase Outlaw (Hamburg, Arkansas) are neck-and-neck for the event lead with 174.5 aggregate points each as Round 3 and the Championship Round approaches on Sunday.
Coming in third was Joe Frost (Randlett, Utah), who covered Stage Fright (Windy Valley Buckers) for 86.5 points. Frost moved from No. 21 in the world standings to No. 19 after collecting $2,000 and 50 world points on Saturday night.
Native American rider Stetson Lawrence (Williston, North Dakota) secured a fourth-place finish with his 85.5-point trip atop Kern River (Ogden/Lee/Hart Cattle). Lawrence took home $1,300 and 40 world points moving him one spot higher in the world standings from No. 19 to No. 18.
Reigning PBR World Champion Kaique Pacheco (Itatiba, Sao Paulo, Brazil) rounded out the top five of the Round 2 action in Albuquerque by riding Dynamite Cap (Hart Cattle Co./Hale/Randy Wood) for 85.25 points. Pacheco took home $850 and 30 world points for his 8-second effort.
The world's best bull riders will return DreamStyle Arena Sunday, May 19 for Round 3 and the championship round of the Ty Murray Invitational Presented by Isleta Resort and Casino.
Fans can catch all the action from the 15/15 Bucking Battle on CBS at 1 p.m. ET on Sunday, May 19. Round 3 and the Championship Round can be watched on CBS Sports Network at 4 p.m. ET. Action from Rounds 1 and 2 will be viewable on-demand Sunday, May 19 starting at 8 a.m. ET on RidePass.com or via the RidePass mobile app.
Ty Murray Invitational Presented by Isleta Resort & Casino 15/15
DreamStyle Arena, Albuquerque, New Mexico
Event Leaders (Round 1 – Event Aggregate Event Points)
1. Jess Lockwood, 91.25-91.25-150 Points.
2. Cody Teel, 89.5-89.50-90 Points.
3. Ryan Dirteater, 89-89.00-75 Points.
Jose Vitor Leme, 0-0.00
Chase Outlaw, 0-0.00
Joao Ricardo Vieira, 0-0.00
Luciano De Castro, 0-0.00
Derek Kolbaba, 0-0.00
Claudio Montanha Jr., 0-0.00
Cody Jesus, 0-0.00
Matt Triplett, 0-0.00
Cannon Cravens, 0-0.00
Ezekiel Mitchell, 0-0.00
Alisson De Souza, 0-0.00
Stetson Lawrence, 0-0.00
Ty Murray Invitational Presented by Isleta Resort & Casino
DreamStyle Arena, Albuquerque, New Mexico
Event Leaders (Round 1-Round 2-Round 3-Round 4-Event Aggregate-Event Points)
1. Matt Triplett, 0-88-0-0-88.00-100 Points.
2. Chase Outlaw, 89.5-85-0-0-174.50-95 Points.
3. Jess Lockwood, 89.5-0-0-0-89.50-80 Points.
4. Marco Antonio Eguchi, 86.75-87.75-0-0-174.50-75 Points.
5. Mason Taylor, 88.5-0-0-0-88.50-50 Points.
(tie). Joe Frost, 84.25-86.5-0-0-170.75-50 Points.
7. Jose Vitor Leme, 87.75-76.5-0-0-164.25-40 Points.
(tie). Stetson Lawrence, 0-85.5-0-0-85.50-40 Points.
9. Joao Ricardo Vieira, 87.5-0-0-0-87.50-30 Points.
(tie). Kaique Pacheco, 85.25-85.25-0-0-170.50-30 Points.
11. Eduardo Aparecido, 86.25-55.5-0-0-141.75-5 Points.
(tie). Dener Barbosa, 0-84.75-0-0-84.75-5 Points.
13. Colten Jesse, 85.5-0-0-0-85.50
14. Ezekiel Mitchell, 82.75-0-0-0-82.75
15. Luciano De Castro, 0-81.5-0-0-81.50
16. Taylor Toves, 0-80.75-0-0-80.75
17. Cody Jesus, 0-80.25-0-0-80.25
Cody Teel, 0-0-0-0-0.00
Derek Kolbaba, 0-0-0-0-0.00
Ryan Dirteater, 0-0-0-0-0.00
Claudio Montanha Jr., 0-0-0-0-0.00
Cannon Cravens, 0-0-0-0-0.00
Alisson De Souza, 0-0-0-0-0.00
Rubens Barbosa, 0-0-0-0-0.00
J.B. Mauney, 0-0-0-0-0.00
Silvano Alves, 0-0-0-0-0.00
Daylon Swearingen, 0-0-0-0-0.00
Danilo Carlos Sobrinho, 0-0-0-0-0.00
Brennon Eldred, 0-0-0-0-0.00
Keyshawn Whitehorse, 0-0-0-0-0.00
Cody Nance, 0-0-0-0-0.00
Scottie Knapp, 0-0-0-0-0.00
Junio Quaresima, 0-0-0-0-0.00
Dylan Smith, 0-0-0-0-0.00
Emilio Resende, 0-0-0-0-0.00
Edgar Durazo, 0-0-0-0-0.00
Latrell Long, 0-0-0-0-0.00