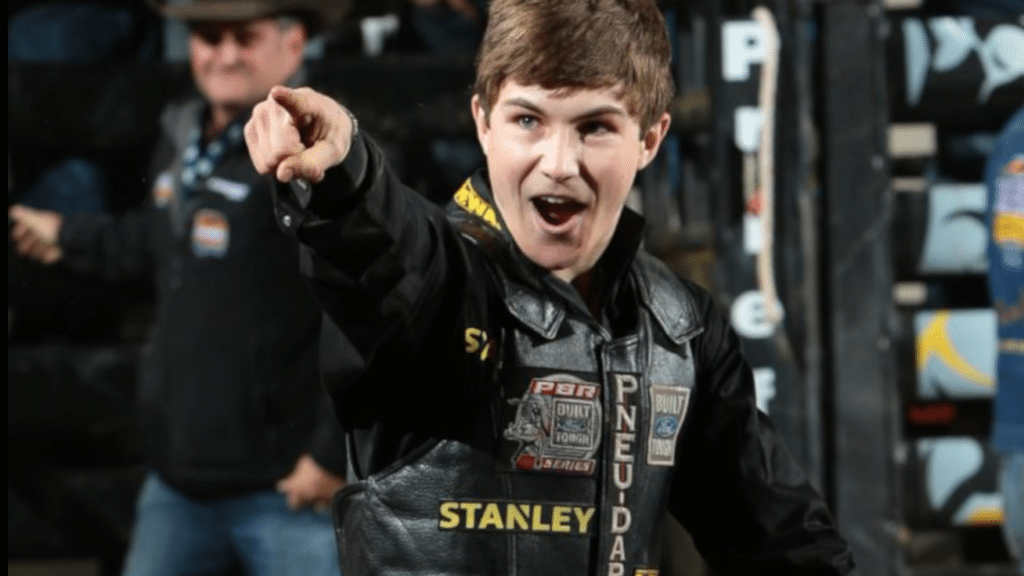 (PBR release)
NEW YORK CITY – In front of a sold-out crowd inside the historic Madison Square Garden, Jess Lockwood (Volborg, Montana) recorded his second qualified ride at the PBR (Professional Bull Riders) Unleash The Beast Monster Energy Buck Off at The Garden, presented by Ariat, to surge to the lead of the New York City event following Round 2.
The 2017 PBR World Champion's second 8-second effort came atop White Lightning (Cornwell Bucking Bulls) for 86.5 points, tying him for fourth in Round 2. On Friday, the 21-year-old tied for the Round 1 win after riding Pennsylvania Bandit (Mike Miller Bucking Bulls) for 88.25 points.
Now 2-for-2, Lockwood, who was recently added to Team USA-Eagles for the upcoming PBR Global Cup, earned an additional 45 world points and is now the No. 5 ranked rider in the world, 117.5 points behind No. 1 Jose Vitor Leme (Ribas do Rio Pardo, Brazil).
Lockwood is no stranger to success inside Madison Square Garden. In 2017, en route to becoming the youngest World Champion in PBR history, Lockwood won this event, propelling him to No. 1 in the world for the first time in his young career.
Tying for the Round 1 win in front of the capacity crowd at "The World's Most Famous Arena," was Emilio Resende (Santa Helena de Goiás, Brazil) and Stetson Lawrence (Williston, North Dakota). Both marked 87.25 points, Resende covered Kick Out The Lights (C Check Bucking Bulls), while Lawrence, set to ride for Team USA-Wolves at the Global Cup, rode Kimes Jeans Church Bells (Wallgren & Hale Bull Co.).
For their efforts, each rider netted 100 world points.
In event standings, Resende and Lawrence are tied for second along with 18-year-old sensation Cannon Cravens (Porum, Oklahoma) who split the first round win with Lockwood on Friday.
Both riders head into Round 3 a perfect 2-for-2. In the overall event aggregate, Resende is fourth with 169.75 points, while Lawrence is fourth with 169.25 points.
Rubens Barbosa (Iaciara, Brazil) finished third in Round 2 to collect 60 world points. His qualified ride for 86.75 points came aboard Heartless (John Peck/Hale & Wallgren Bull Co.).
Amidst his sophomore season on the elite tour, Colten Jesse (Konawa, Oklahoma) made the 8 on Up North Law (Little Acres Ranch) for 86.5 points to tie for fourth in the round alongside Lockwood. He also collected 45 world points.
Overall, 19 riders recorded qualified rides on the second night of action, and 11 are a perfect 2-for-2.
With Lockwood also atop the overall event aggregate compliments of his two scores, Chase Outlaw (Hamburg, Arkansas) is second after riding Anonymous (Broken Arrow Bucking Bulls) for 84.5 points in Round 1 to bring his overall total to 171.5 points.
Third in the aggregate with 170.25 points is Claudio Montanha Jr. (Pacaembu, Brazil). In Round 2, he rode Maximum Risk (Broken Arrow Bucking Bulls) for 84 points.
Also still flawless inside Madison Square Garden are: Luciano De Castro (Guzolândia, Brazil), Cody Nance (Paris, Tennessee), Alisson De Souza (Taubaté, Brazil), Cody Jesus (Window Rock, Arizona), Ramon de Lima (Rio Branco, Brazil) and 2018 PBR Rookie of the Year Keyshawn Whitehorse (McCracken Springs, Utah).
Round 3 and the championship round from New York City will begin on Sunday at 1:45 p.m. ET. Fans will be able to watch all the action on CBS Sports Network beginning at 8:00 p.m. ET, or via the listen LIVE stream on RidePass at 1:45 p.m. ET.
All the action from Saturday night will also be viewable Sunday starting at 8 a.m. ET on RidePass.com or via the RidePass mobile app.
PBR Unleash The Beast
Monster Energy Buck Off at The Garden, presented by Ariat
Madison Square Garden – New York City, New York
Event Leaders (Round 1-Round 2-Round 3-Round 4-Event Aggregate-Event Points)
1. Jess Lockwood, 88.25-86.5-0-0-174.75-145 Points.
2. Cannon Cravens, 88.25-0-0-0-88.25-100 Points.
(tie). Stetson Lawrence, 82-87.25-0-0-169.25-100 Points.
(tie). Emilio Resende, 82.5-87.25-0-0-169.75-100 Points.
5. Rubens Barbosa, 0-86.75-0-0-86.75-60 Points.
(tie). Chase Outlaw, 87.25-84.5-0-0-171.75-60 Points.
7. Colten Jesse, 0-86.5-0-0-86.50-45 Points.
(tie). Claudio Montanha Jr., 86.25-84-0-0-170.25-45 Points.
(tie). Matt Triplett, 86.25-0-0-0-86.25-45 Points.
10. Cody Teel, 86-0-0-0-86.00-15 Points.
(tie). Cody Nance, 86-81.75-0-0-167.75-15 Points.
12. Tanner Byrne, 0-86.25-0-0-86.25-10 Points.
(tie). Keyshawn Whitehorse, 79.25-86.25-0-0-165.50-10 Points.
(tie). J.B. Mauney, 0-86.25-0-0-86.25-10 Points.
15. Luciano De Castro, 85-84-0-0-169.00
16. Alisson De Souza, 85.5-82.25-0-0-167.75
17. Cody Jesus, 82.25-84.75-0-0-167.00
18. Ramon de Lima, 82-84.75-0-0-166.75
19. Marco Antônio Eguchi, 72.25-83.5-0-0-155.75
20. Eduardo Aparecido, 0-85.75-0-0-85.75
21. Sean Willingham, 0-84.5-0-0-84.50
22. Jose Vitor Leme, 83.75-0-0-0-83.75
23. Chase Robbins, 83.5-0-0-0-83.50
24. Lonnie West, 83.25-0-0-0-83.25
25. Brennon Eldred, 83-0-0-0-83.00
26. Nathan Burtenshaw, 0-82.25-0-0-82.25
Ezekiel Mitchell, 0-0-0-0-0.00
Dakota Buttar, 0-0-0-0-0.00
Silvano Alves, 0-0-0-0-0.00
Derek Kolbaba, 0-0-0-0-0.00
Francisco Morales, 0-0-0-0-0.00
Cooper Davis, 0-0-0-0-0.00
Fabiano Vieira, 0-0-0-0-0.00
Ryan Dirteater, 0-0-0-0-0.00
João Ricardo Vieira, 0-0-0-0-0.00
Alex Marcilio, 0-0-0-0-0.00
Koal Livingston, 0-0-0-0-0.00