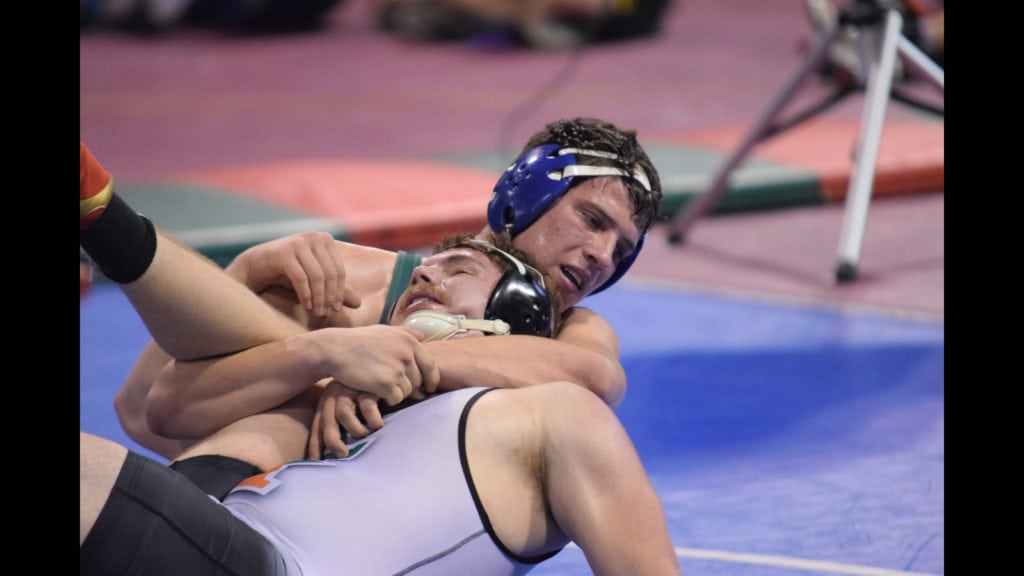 Story by Brandon Sullivan
BILLINGS – As the parade of wrestlers entered Rimrock Auto Arena on Day 1 of the all-class state wrestling tournaments, most walked with their teams.
Harley Yoder was by himself.
Just a young man and his sign reading 'Powder River County.'
For the past two years, Yoder has been the only wrestler on his team to earn a trip to state. But that's not what makes his story so special.
Harley grew up Amish, arriving in Broadus less than two years ago after leaving his colony in Iowa.
"His cousin works for me and he told me that he had a young man that was struggling with life and he said he needs a good dose of Curt Olson," said Olson himself. "I took him on as a project, you know, a lot of people had given up on Harley. Harley was hanging around with the wrong people and it just wasn't working for him."
Olson is Broadus resident and national sheep shearing champion who happens to own commercial fishing boats in Alaska. But when it comes to Harley, there's no one more committed to his future.
"Yeah," Olson said, "it's been heart filling. I mean, it's hard for me to talk about it because I didn't think it would end up this way. You know, I've seen times that they end in tears but they're tears of sadness. You know, when you can have tears of joy that's a feather in your hat. "
In the eyes of Olson, Harley's transformation has been nothing short of a miracle. When he moved to Montana he spoke mainly German and hadn't attended school in more than two years. He struggled to read and felt lost.
"I seen a diamond in the rough," said Olson. "I seen a kid that – he wanted somebody to discipline him. He wanted someone to show him where to go. He wanted somebody to be a hero. And I told him, 'Harley, the people you associate with will determine your future.' I surround myself with good people. I tell Harley, 'If you do that you can't go wrong.' The books you read and the people you associate with will determine who you are for the rest of your life and Harley realizes that now. He hung around the wrong people. A lot of positive in my camp, there ain't nothing you can't do and no hill you can't climb."
Harley learned to read, got a job and now lives on his own. Wrestling has been the perfect outlet. Despite having never wrestled before last season, his work ethic is unlike anything coach Frankie Schoonover has ever seen.
"Harley's the only kid I've ever coached that's like Harley," he said. "I've never coached a kid that was so mentally tough and had such a wonderful work ethic. I mean, you can work Harley until he passed out and he would never complain about it, he would never stop."
Harley placed sixth at state last year. This year even better, finishing fourth.
"I get all choked up inside when I think about it," Olson said. "It's not the fourth place. It's where he's taken his life and put it somewhere. He was about to go to jail when he came to my house. Now he's about to go to college and wrestle. All I did to Harley was treat him fair – treat him like he was my son – and that's all I ever did."
Harley is kind and soft-spoken. But when your actions speak louder than words, there's no need to say much. He's a shining example of hard work and determination. And grateful for the people in his life.
"God puts people in your life for a reason to help you," Harley said. "It just takes a lot of faith."
"He has a big heart and it just overflows," said Olson. "He has a giving heart. He's not all about Harley."
"I think Curt, Curt he was really happy," Harley said. "He's the one that I wanted to make proud. I do this for myself, too, but I do it for the people that helped me along to try and make them proud – show them that I am thankful for what they have helped me with."