BILLINGS — The Class AA state golf tournament got a dose of drama in the final round Friday at Lake Hills, culminating with Billings Skyview's Tye Boone holding off Kalispell Glacier's Sam Engellant in two playoff holes to capture the boys individual title.
Meanwhile, Billings Senior's Kenzie Walsh fended off a final-round surge from two-time reigning champ Bella Johnson of Billings West to claim her first individual girls championship.
In the team competition, Engellant's runner-up finish spearheaded Glacier to the boys crown. The Wolfpack shot a cumulative 300 on Friday to finish with a two-round total of 595, five strokes better than second place Missoula Sentinel and 10 better than third-place Skyview.
Walsh's two-day performance propelled Senior to the girls title. The Broncs shot a collective 319 on Friday to finish with a 644, well ahead of No. 2 Billings West (689) and third-place Bozeman Gallatin (714).
Boone and Engellant were tied at 142 total strokes after 36 holes, which forced a playoff to decide the boys title. Boone shot 68 on Friday to ultimately force the tiebreaker. He and Engellant both bogeyed No. 9, but Boone prevailed on the second playoff hole on No. 18 to secure the championship.
Sentinel's Kade McDonough was one shot back at 143 to place third. Skyview's Logan Connolly and Glacier's Torren Murray each finished with 149 to finish in a tie for fourth.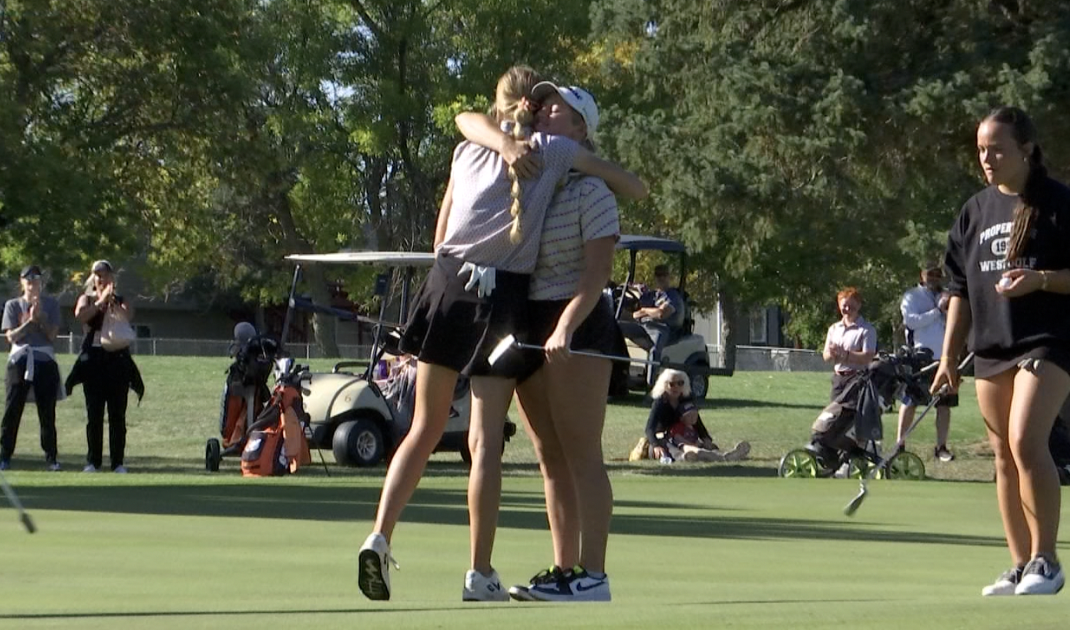 On the girls side, West's Johnson shot seven strokes better than she did in the first round, and her 73 gave her a two-round score of 153. But it wasn't enough to catch Walsh, who followed her 76 on Thursday with a 75 on Friday to finish with 151 and win the title by two strokes.
Senior's Becca Washington finished with a two-day score of 159 while Anna Stensrud of Missoula Hellgate and Senior's Moe Kobold each closed the tourney with matching 161s to forge a fourth-place tie.
For a look at results, see below:
State AA golf
Final round
Friday at Lake Hills, Billings
Boys
Team scores: Kalispell Glacier 295-300—595, Missoula Sentinel 300-300—600, Billings Skyview 306-299—605, Bozeman 315-317—632, Bozeman Gallatin 318-328—646, Billings West 328-325—653, Missoula Big Sky 331-331—662, Helena Capital 320-345—665, Butte 342-326—668, Billings Senior 355-352—707.
Individual top 15: Tye Boone, Skyview, 74-68—142 (won in playoff); Sam Engellant, Glacier, 70-72—142; Kade McDonough, Sentinel, 70-73—143; Logan Connolly, Skyview, 75-74—149; Torren Murray, Glacier, 72-77—149; Hudson Goroski, Sentinel, 76-75—151; Tanyon Murray, Glacier, 77-74—151; Colin McCarthy, Sentinel, 71-81—152; Isaac Mosser, Skyview, 77-75—152; Trevor Cunningham, Glacier, 76-77-153; Toby Dinges, Gallatin, 78-75—153; David Bickerstaff, Bozeman, 77-77—154; John Gilbert, Capital, 78-77—155; Reid Wilkinson, Bozeman, 75-81—156; Brek Strobel, West, 81-77—158; Zander Brester, West, 82-76—158; Gabe Shepard, Sentinel, 83-75—158.
Girls
Team scores: Billings Senior 325-219—644, Billings West 348-341-689, Bozeman Gallatin 354-360—714, Bozeman 378-353—731, Kalispell Glacier 376-378—754, Missoula Hellgate 373-393—766, Belgrade 376-390—766, Helena Capital 391-389—780, Helena 400-386—786.
Individual top 15: Kenzie Walsh, Senior, 76-75—151; Bella Johnson, West, 80-73—153; Becca Washington, 82-77—159; Anna Stensrud, Hellgate, 82-77—159; Moe Kobold, Senior, 81-80—161; Hanna Boyd, Great Falls, 82-80—162; Mielle Kavran, West, 79-84—163; Addison Bleile, Gallatin, 83-80-163; Chloe Tanner, Glacier, 83-80—163; Ryann Walker, Great Falls CMR, 79-85—164; Kira Connell, Bozeman, 86-81—167; Olivia McGreevey, Capital, 90-81—171; Lauren Mayala, Senior, 86-87—173; Alison Shenk, West, 87-86—173; Avery Wright, Senior, 87-89—176.