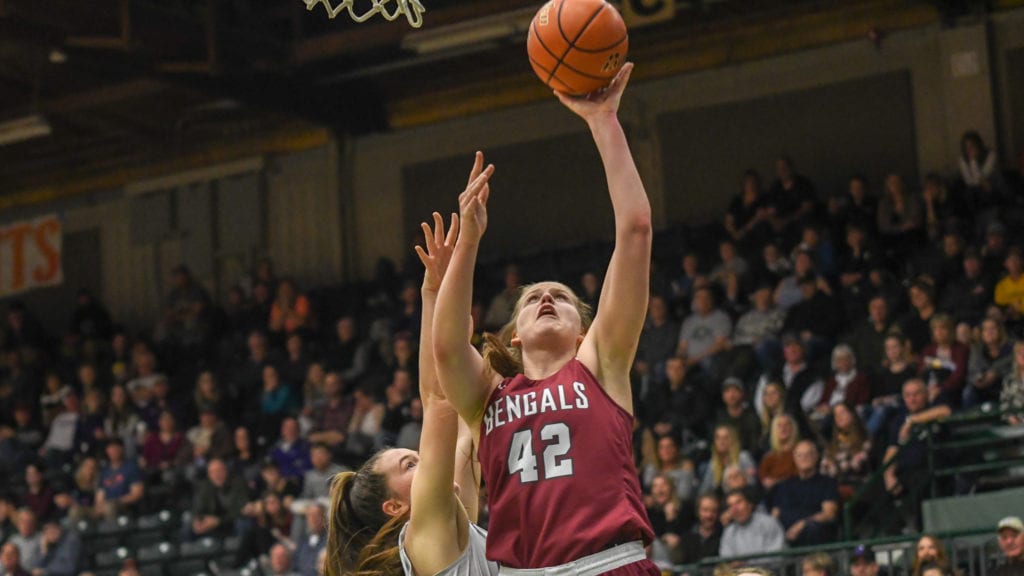 Jamie Pickens has been named the USA Today all-USA Montana girls basketball player of the year after leading Helena High to its third consecutive Class AA girls basketball state title. The publication released its all-USA state girls basketball teams on Wednesday.
Pickens, who will continue her basketball career at the University of Montana, was named Montana's Gatorade player of the year for the second consecutive year in March. She averaged a double-double for the Bengals this season, scoring 19 points and reeling in 12 rebounds per game. Pickens put up 18 points and 17 boards in the State AA title game against Billings West. This is the second consecutive year USA Today has tabbed Pickens as Montana's player of the year.
Joining Pickens on the first team are fellow state champions Kyndall Keller of Havre and Imani Bighorn of Wolf Point.
Keller, a junior, led Havre to its second consecutive Class A state championship, where the Blue Ponies beat Hardin once again. Keller has won back-to-back state tournament MVPs and led Havre with 16.7 points and 4.3 rebounds per game this season.
Bighorn, a 6-foot-3 senior, led Wolf Point to its first state title since 2003, scoring 19 points and pulling down 14 rebounds against Florence in the Class B title game. Bighorn was named the State B tournament MVP. Bighorn will continue her athletic career in college at Haskell Indian Nations University, an NAIA school in Lawrence, Kansas where she will compete in basketball and volleyball.
Missoula Hellgate senior Emma Blakely was also a first-team selection by USA Today. Blakely led Hellgate to its first appearance at the State AA girls tournament since 2003. The Knights finished third, defeating Helena Capital in the consolation game. Blakely was a first-team all-state selection, averaging 12.6 points, 3.9 rebounds and 2.9 assists.
Helena Capital senior guard Sydney Sheridan rounds out the first-team selections. Sheridan was a first-team all-state selection for Capital and led the Bruins to the State AA consolation game, where they fell to Hellgate. Sheridan will continue her basketball career for recent NAIA Division I national champion Montana Western.
Athletes recognized on the USA Today all-Montana second team included Missoula Sentinel junior Lexi Deden, Townsend senior Tavia Rooney, Columbia Falls senior Ryley Kehr, Wolf Point junior Mya Fourstar and Hellgate senior Kylie Lunday.
Rooney has signed with Montana Tech to continue her basketball career, while Kehr will play at MSU-Northern.
Helena High head coach Eric Peterson was tabbed as the USA Today Montana girls basketball coach of the year. Peterson led Helena to its third consecutive Class AA state title. The Bengals lost just one game all season, falling to Missoula Hellgate in the Western AA divisional tournament.
The complete list of the all-USA Montana girls basketball team can be found below.
Coach of the year: Eric Peterson, Helena High.
First team: Jamie Pickens, Helena High; Kyndall Keller, Havre; Imani Bighorn, Wolf Point; Emma Blakely, Missoula Hellgate; Sydney Sheridan, Helena Capital.
Second team: Lexi Deden, Missoula Sentinel; Tavia Rooney, Townsend; Ryley Kehr, Columbia Falls; Mya Fourstar, Wolf Point; Kylie Lunday, Missoula Hellgate.