GREAT FALLS — Havre is headed back to the State A title game.
The Blue Ponies fought off each run Laurel made, holding off the Locomotives for a 52-41 win on Friday in the semifinal round of the State A girls basketball tournament at Pacific Steel & Recycling Four Seasons Arena.
"It's exciting. Congratulations to our girls, we're happy for them," Havre head coach Dustin Kraske said. "Our kids work hard. Not that other teams don't, I get all that, but this is the reward for all that hard work."
Havre rode star junior Kyndall Keller in the first half, as she scored 14 of her 19 points in the first two quarters. Havre led 10-8 after the first quarter, then Keller took over. She scored 10 of Havre's 12 second-quarter points to give the Blue Ponies a 22-16 advantage at the break.
Havre extended its lead early in the third quarter to 29-19, forcing Laurel head coach Pat Hansen to take a timeout. Hansen's daughter, Mya, then ripped off eight consecutive points to trim Havre's lead to three, but the Blue Ponies closed the third quarter on a 7-0 run to hold a 10-point lead, 36-26, entering the final frame.
Laurel wasn't done yet, though. The Locomotives cut Havre's lead to 43-39 with just more than two minutes to play. Mya Hansen had a chance to cut the Havre lead to two but watched as her left-handed layup rolled off the rim.
The Locomotives played the foul game from that point on, but Havre was at its best down the stretch. Havre hit nine of its final 10 attempts from the foul line in the final two minutes to fend off Laurel. Havre was 12 of 21 from the line in the fourth quarter and 20 of 33 in the game.
"That kind of made it fun, a little nervous for everybody," Kraske said. "But that's the game. We've got young kids trying to shoot them. Kudos to get fouled, now just go through your routine and, it's easy for me, but let's not make the moment bigger than what it is. Knock it down just like you're at your house."
Keller was magnificent for Havre in the first half, but Laurel did a tremendous job not letting her get free in the second, as she shot just 1 of 3 in the final two quarters. But the Blue Ponies aren't a one-trick team. They got huge contributions down the stretch from the rest of the team. Out of Havre's 16 fourth-quarter points, Keller scored only the final two.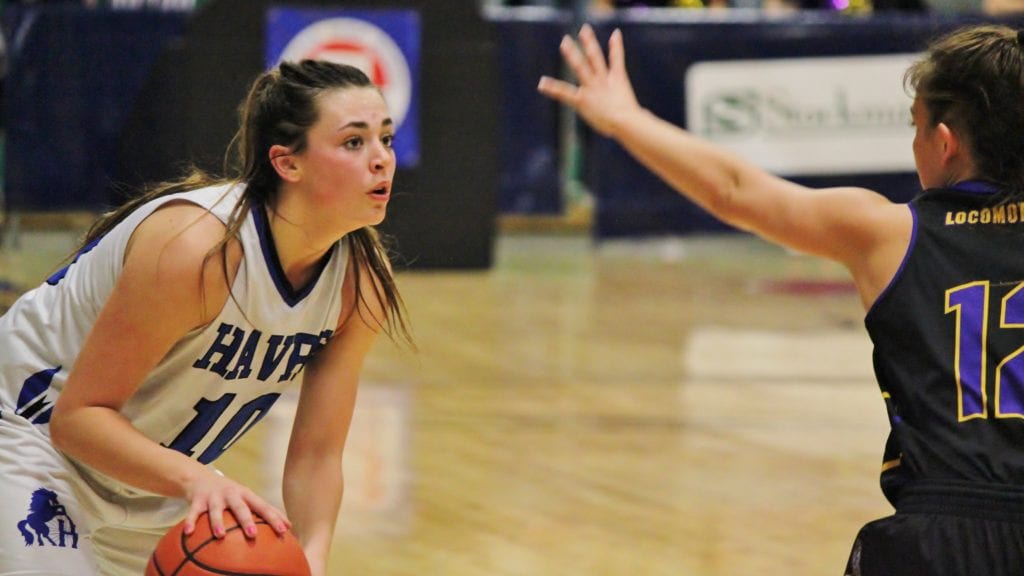 "We're all a team. We play together, and just play your role. We've got to step up and play our role," Havre's Katie Wirtzberger said.
Havre also held a significant advantage on the glass, out-rebounding Laurel 31-18, frequently holding the Locomotives to one shot.
"You've got to work to do it, and our kids did a good job of that," Kraske said. "If there's a key to a game in my mind, it's boards. Play good 'D' obviously, but then collectively board."
Keller's 19 points were tied with Mya Hansen for a game high. Keller also had six rebounds. Kadia Miller added 10 points and five rebounds for Havre. Maeson Cotter had nine for Laurel, while sister Aspen had eight.
The Blue Ponies will take aim at a second consecutive State A girls basketball title on Saturday night against Hardin, a rematch of the 2018 title game, which Havre won 42-35
Hardin 44, Billings Central 43
Hardin has set up a rematch in the State A girls basketball title game. The Bulldogs pulled out a hard-fought 44-43 win over Billings Central on Friday at Pacific Steel & Recycling Four Seasons Arena.
Hardin's win wasn't without drama, though. The Bulldogs held the 44-43 advantage and the ball with less than a minute left, but Central's Isabelle Erickson stole the ball from Marie Five, giving the Rams another chance. Following a timeout by head coach Jetton Ailes, Central looked poised to hold for the game's final shot. Erickson, though, fumbled the ball out of bounds trying to fend off a Hardin defender, giving the ball back to the Bulldogs with 20.3 seconds remaining.
Central fouled Hardin's Mashaya Alden, who missed the front end of a one-and-one, giving the Rams another chance to win. Following another timeout, Central got the look it wanted. Chloe Paharik dribbled left and found an open Solei Elletson in the corner. Elletson let the potential game-winner fly, but it bounced off the back iron and into Hardin's hands. Four Seasons Arena, packed with Hardin fans, erupted as the final buzzer sounded.
"(Central) had that chance and had a good look. That ball just bounced our way (Friday)," Hardin head coach Cindy Farmer said. "At this point, it's who wants it more. We've played each other numerous times. … I'm just proud of the way we competed until the final buzzer."
The two teams were tied at 18 at halftime, but Hardin separated early in the third quarter. The Bulldogs went on a 10-2 run to open up a 30-22 advantage with 4:30 to go in the third quarter. Central, however, would fight back. The Rams closed the quarter on a 13-4 run and led 35-34 with eight minutes to play.
Hardin again opened the fourth quarter with a run, this time 8-2, to lead 42-37 with less than four minutes to go. Five's bucket with just more than two minutes to go represented Hardin's final points, but the Bulldogs held Central without a made field goal the entire quarter to preserve the win.
"We tell the kids, 'You've just got to stay the course, focus on the task at hand,' and that's all we're focused on, is the moment that we're in. They're just a great group of kids," Farmer said.
After losing in last weekend's Eastern A divisional tournament to Havre, the Bulldogs are ready to exact revenge for last year's title-game loss.
"We're battle-tested. It's a whole different team than when we played them last year. We played them at super-divisionals. I think just a couple different possessions could have helped us over the hump, but intensity-wise, again, our defense just has to be there (Saturday)," said Farmer.
Five led Hardin with 16 points and six rebounds. The Bulldogs got a huge contribution from Julianna Takes Horse, who came off the bench to score 11 points and grab 10 rebounds, six of which were offensive. Elletson led Central with 13 points and was the only Ram in double figures.
"I think we're a pretty big competition team, and that's one of our big rivalries, too," Takes Horse said. "When we step out there, we need to know what we're doing. We've got to all step up as a team, even when someone is having a bad game, we've got to all step up for each other."
"We knew we had to get (Central) out of their comfort zone. Putting (Takes Horse) in there, big body, she works hard and good hands for a big girl. She really stepped up and made some big plays for us," Farmer said.
Hardin is making its third consecutive trip to the title game, having lost in 2017 to Columbia Falls and 2018 to Havre. Havre and Hardin are set to tip off at 6:30 p.m. on Saturday night. Billings Central falls to loser-out play, where the Rams will take on Columbia Falls, which beat Libby on Friday morning.
Stats: Hardin 44, Billings Central 43
Friday loser-out games
Stats: Columbia Falls 48, Libby 33