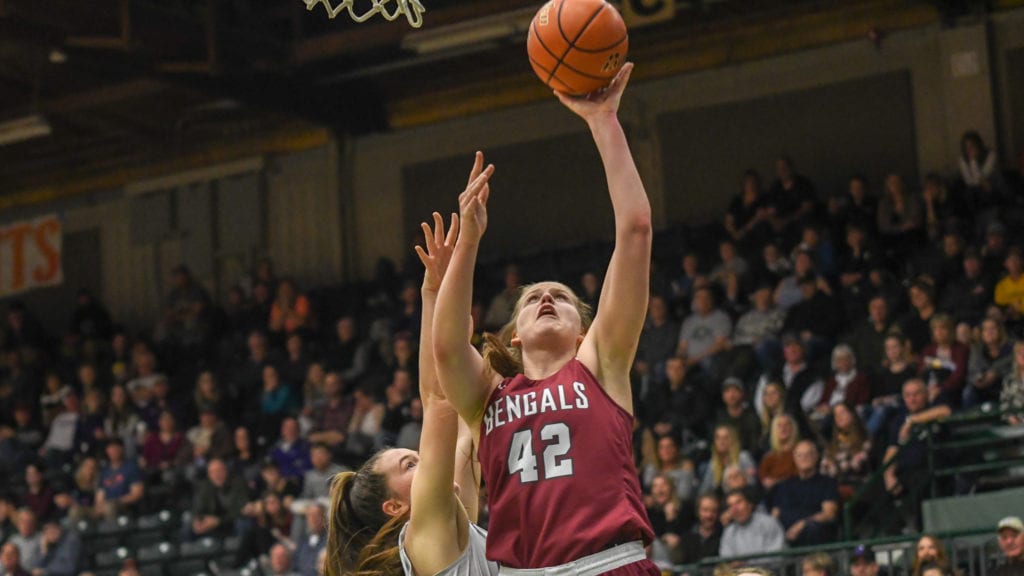 CHICAGO, Ill. — Jamie Pickens isn't one for individual awards as the Helena High senior hopes to lift the Bengals to a third consecutive Class AA girls basketball state championship this weekend.
She'll do so with one of the most prestigious individual honors a high school basketball player can receive, anyway.
For the second straight year, Pickens has been named the Montana Gatorade girls basketball player of the year. The Gatorade organization announced the 2018-19 state winners on Friday morning.
The 6-foot-2 senior and Montana Lady Griz commit led Helena High to a 19-2 record entering the state tournament, and just Thursday scored 25 points and grabbed eight rebounds to secure a berth in the state semifinals.
"It is hard to believe that (Pickens) has improved this year from last year, but she is better in every statistical category, not to mention, she has the confidence this year to take over games when we need her to," said Helena High head coach Eric Peterson. "The best thing about (Pickens) is that she remains humble and is a true role model for the younger generation by being an amazing student and wonderful citizen within our community."
Pickens averaged 17 points, 12.2 rebounds, 3.7 steals, 2.4 blocks and 2.1 assists throughout her senior season, which saw Helena High spend the majority ranked No. 1 in Class AA. The 2017-18 MontanaSports.com state tournament co-MVP is a two-time first-team all-state selection and was nominated to compete in the annual McDonald's all-American game.
"Jamie truly is a player in a league of her own," said Bozeman girls basketball coach Erika Gustavsen. "She is so dangerous because she is so versatile on both ends of the court. She is a great teammate and makes everyone around her better."
A multisport standout, Pickens is also an all-state volleyball and softball player, helping the Bengals to the state tournament in each. An honors student, she has maintained a 3.77 GPA and volunteers locally in the Helena community, serving as a youth sports coach and assisting in fundraising campaigns to help benefit cancer and mental health research.
For winning the Gatorade honor, Pickens will receive the opportunity to award a $1,000 grant to the youth sports organization of her choosing. The 2018 USA Today all-Montana team MVP presented last year's grant to the Helena Family YMCA. Pickens is also eligible to submit an essay to win and award one of 12 $10,000 grants.
Helena Capital's Audrey Hofer earned one of the Gatorade "Play It Forward" $10,000 grants earlier this year, after submitting an essay following her Gatorade volleyball player of the year award. Hofer, too, gifted hers to the Helena Family YMCA.
"When I was younger I went through the YMCA to learn communication skills and competitiveness, and they really help with that coming up from a young age and help me work with my teammates. They're a great organization for that," Pickens told MTN Sports in 2018.
Pickens joins recent standouts like Sophia Stiles of Malta, Taylor Goligoski of Hamilton and Missoula Big Sky's Joslyn Tinkle as two-time winners of the Gatorade girls basketball player of the year. Stiles and Goligoski will be teammates of Pickens at the University of Montana next year.