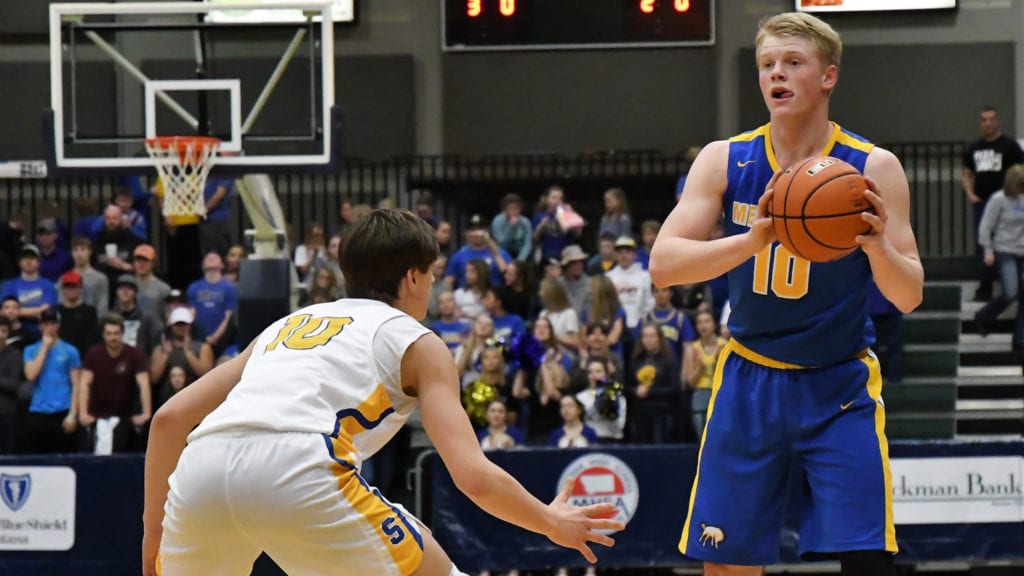 MELSTONE — Two questions have hovered over Brody Grebe's head for months — where would he go to college, and what sport would he play once he got there? One has been answered. College is still up in the air.
After he graduates from Melstone next month, Grebe will head to Choate Rosemary Hall, a college-preparatory school in Wallingford, Connecticut on a full scholarship, according to his dad, Jason Grebe. Brody intends to play both basketball and football at Choate with a goal to move on to a prestigious academic university.
"He's going to promote himself and try to get better for nine months, and then hopefully funnel into a bigger college," said Jason.
Brody Grebe led Melstone to the Class C boys semifinals last month and moved into the top 10 all-time on the Montana high school scoring list. He scored his 2,000th point on Jan. 11.
Grebe also was a standout football player for Roundup last fall, scoring 41 touchdowns on offense and being named the USA Today defensive player of the year.
Jason said Brody had offers to play college football from both the Montana State Bobcats and Montana Grizzlies. He also had basketball offers from all of Montana's Frontier Conference schools, as well as NCAA Division II programs MSU Billings, Colorado School of Mines, Northwest Nazarene, and Seattle Pacific, but turned them down with a bigger dream, according to Jason.
"He just wants to go big time if he can, with a high education university," Jason said. "Maybe Harvard or Yale. Choate is 10 minutes from Yale."
Brody has plans to become an engineer and carries a 3.95 grade-point average.
Choate's alumni include John F. Kennedy, who attended the school from 1931-35 before becoming the 35th President of the United States.