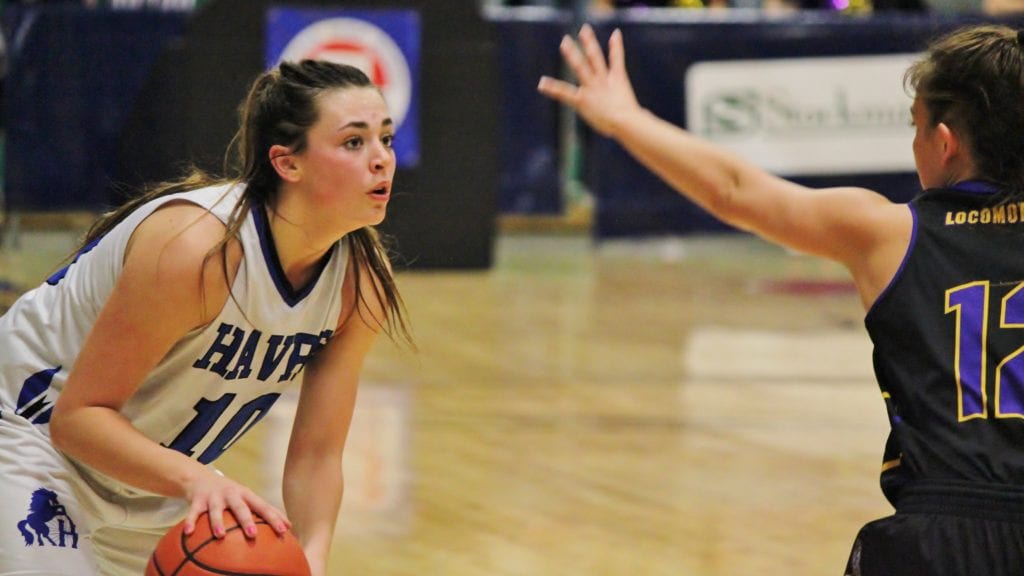 GREAT FALLS — After leading Billings Central and Havre to their respective Class A basketball titles over the weekend, guards Chrishon Dixon and Kyndall Keller were named most valuable players of the tournament, according to the team at MontanaSports.com.
Dixon, a Billings Central senior, and Keller, a Havre junior, were each unanimous selections in the voting, which was based off athletes' performances during the three-day Class A boys and girls state basketball tournaments at Pacific Steel & Recycling Four Seasons Arena.
Dixon averaged 11.0 points, 5.3 assists, 4.7 rebounds and 1.3 steals for the Rams, which won their first boys basketball championship since 1996. Dixon scored 21 points, grabbed seven rebounds and dished five assists in the Rams' 62-44 victory over Hardin in Saturday's state championship, avenging Central's runner-up finish to the Bulldogs a year ago.
Billings Central had finished in second place in each of the previous three seasons.
Dixon is joined by teammate Sam Gray on the MontanaSports.com all-tournament first-team. Gray scored 44 points and grabbed 22 rebounds in Billings Central's three games, highlighted by his 21-point, 10-rebound performance in Friday's 65-43 victory over Hamilton in the semifinals.
Hardin's dynamic duo of Famous Lefthand and Trae Hugs were also first-team selections, each showcasing impressive games during the tournament. Lefthand scored 30 points and corralled 14 rebounds in Hardin's 69-59 win over Browning on Thursday, then Hugs scored 32 points and had two rebounds, two steals and two assists on Friday as the Bulldogs moved past Butte Central 79-73.
Hugs and Lefthand combined for 17 points, three rebounds and three steals in Saturday's loss to Billings Central.
Hamilton's Hunter Omlid was the final first-team selection after leading Hamilton to the consolation game, where the Broncs fell to Butte Central. The Maroons' Cade Holter led the second-team selections.
Keller averaged 16.7 points, 4.3 rebounds, 1.3 assists and 0.7 steals in leading Havre to its second consecutive State A girls championship. The Blue Ponies defeated Hardin in the championship game for the second year in a row, winning 42-36 on Saturday evening. Keller had 17 points, three rebounds, an assist and steal in the victory.
Havre's Sadie Filius joined Keller as a first-team selection after notching 13 points, seven rebounds and three assists in the Blue Ponies' win over Hardin. The Bulldogs' Marie Five was the second-leading vote-getter and finished the championship game with 13 points and 13 rebounds.
Laurel's Mya Hansen and Columbia Falls' Ryley Kehr rounded out the first-team selections.
The full State A boys and girls basketball all-tournament teams, as selected by MontanaSports.com, are below.
State A boys
First team
Chrishon Dixon, sr., Billings Central — MVP
Famous Lefthand, jr., Hardin
Sam Gray, sr., Billings Central
Trae Hugs, jr., Hardin
Hunter Omlid, sr., Hamilton
Second team
Cade Holter, sr., Butte Central
Braden Harrington, jr., Butte Central
Tyree Whitcomb, sr., Browning
Brendon Johnson, jr., Livingston
Niki Krause, jr., Billings Central
Honorable mention (listed in alphabetical order by last name)
Tanner Goligoski, sr., Hamilton
Cam Rothie, sr., Hamilton
Seth Sasich, sr., Billings Central
Dylan Sestrich, sr., Butte Central
Riley Spoonhunter, jr., Browning
State A girls
First team
Kyndall Keller, jr., Havre — MVP
Marie Five, jr., Hardin
Sadie Filius, fr., Havre
Mya Hansen, fr., Laurel
Ryley Kehr, sr., Columbia Falls
Second team
Julianna Takes Horse, jr., Hardin
Aspen Cotter, sr., Laurel
Trista Cowan, sr., Columbia Falls
Solei Elletson, fr., Billings Central
Kadia Miller, jr., Havre
Honorable mention (listed in alphabetical order by last name)
Maeson Cotter, so., Laurel
Isabelle Erickson, so., Billings Central
Taylor Jordan, sr., Browning
Tricia Joyce, sr., Butte Central
Jayden Winslow, sr., Libby