GREAT FALLS — Darah Huertas-Vining doesn't like talking about her disease.
She doesn't like asking for help.
But that doesn't mean she's not grateful when it's offered.
"The day after that last game we had, they presented the (money)," Vining smiled. "I just started crying because I couldn't believe it."
Story continues below
The UGF senior point guard has Type 1 diabetes – a condition she's battled since she was nine years old. And during her sophomore season the disease turned life threatening.
"Two years ago my (insulin) pump failed on our way back from L-C State," she recalled. "So for 12 hours I didn't get any insulin. It put me in diabetic ketoacidosis, basically my body started to decay. And so I was in the hospital and my insurance hadn't switched yet and they didn't cover it. It was a huge bill."
The mounting bills caused financial hardship on Vining and her family. So much so that Darah was forced to take a job working at Champs Sports in the Holiday Village Mall, working five to six days a week between school and practice to help pay down what she owed. Add in the cost of new pump equipment and over $200 each week for insulin and the financial struggle crept into all aspects of her life.
All the while she kept this burden secret from her coach and teammates.
"The insurance was sending bills back home and I just wasn't getting them and my dad wasn't getting them," said Vining. "So it went to collections and it was almost about $2,000. I told coach at the beginning of the year, he was like, 'Why are you working so much?' I was like, 'I don't want to tell you guys,' because I'm not big about telling people about my diabetes and that was it."
When the team caught wind of the problem, they thought of a way to help.
"The team had the idea to sell T-shirts," said head coach Bill Himmelberg. "They wanted to do something to help and surprise Darah and help take care of that for her. The bill is quite large."
For months the Argos sold T-shirts, secretly raising money to help their friend and teammate. And right before Christmas break, they surprised Darah in the locker room with a check for $1,200.
Cue the tears.
"She couldn't have been more thankful," Himmelberg recalled. "She cried in the locker room, she's just been very emotional about the whole situation when she found the girls were doing it."
The money put a dent in her bills, but didn't eliminate them. So next it was the community's turn to step up. After Wednesday's game against Calgary – fans, boosters and media members pitched in the remainder.
"It's just a dream come true," Vining said. "I don't really talk about my diabetes. I usually don't really put it out there but to have a team and community come together and do something like this – It's huge to me."
"It's the spirit of the holidays," added her coach. "It's just so nice to be able to help a student-athlete that works as hard as she does."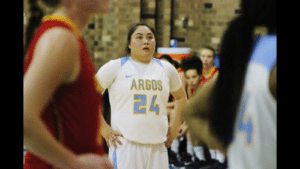 With her burden lifted, Darah can turn her full attention toward basketball. When she was down, her teammates had her back. Now it's her turn to have theirs.
"This team, Coach Bill have been great to me," Vining said. "Not a lot of coaches bet on you with diabetes or give the second chance that he's given me, and I'm very thankful. It means a lot to play with this team. We're a family and its fun, I can't wait to keep playing and get to the national championship."
As a point guard, Vining is used to dishing out assists. But it's the one she received that made her and the Argos stronger than they've ever been.