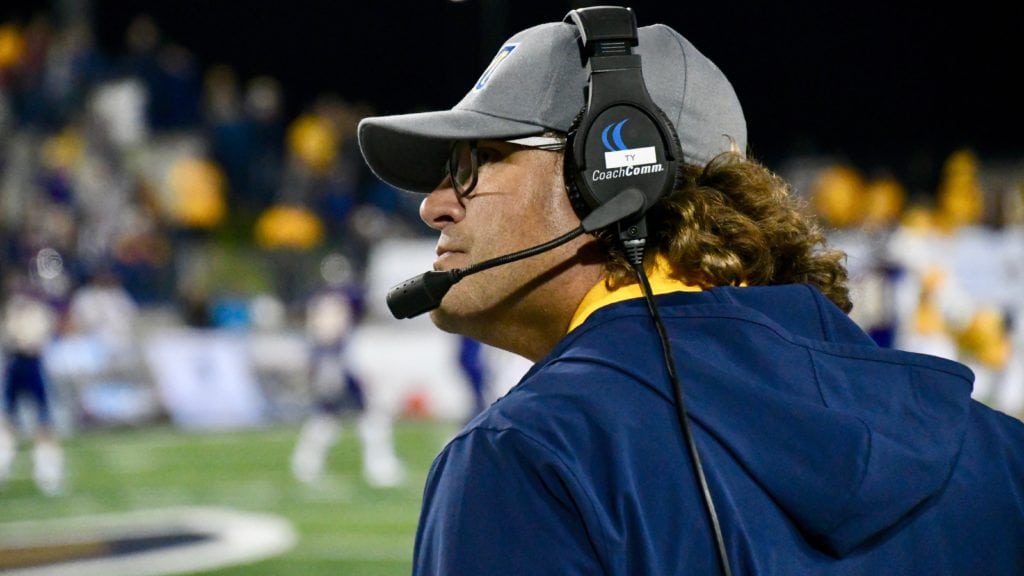 BOZEMAN — Ty Gregorak, who took over as the Montana State defensive coordinator in 2016, will not return to the Bobcats this fall, according to multiple sources.
Gregorak previously coached at the University of Montana, where he was the linebacker coach from 2003-09 and the defensive coordinator from 2011-15. He joined the staff at Montana State after Jeff Choate was hired to take over the program prior to the 2016 season.
Choate was flying back to Bozeman Monday night from the American Football Coaches Association convention in San Antonio. During a layover in Denver, he returned a call to MTN Sports requesting that Gregorak's departure not be announced until Choate met with his team on Tuesday night.
"Ty did a great job in helping us build this thing," Choate said, adding that he has pegged a replacement, who will be announced at a later date.
Since leading the Montana State defense, Gregorak has helped turn the unit into one of the best in the Big Sky Conference. MSU ranked fourth in the league in both scoring defense (28.5 points per game) and total defense (409.2 yards per game) this past season. Weber State led the conference in both categories, giving up just 21.2 points per game and 319.3 yards per game.
Gregorak's agent, Andrew Schmidt, could neither confirm nor deny Gregorak's departure from MSU, but Schmidt did say Gregorak is "proud" of the defensive turnaround during his tenure.
"(Montana State) had the worst defense in the league before Choate and Ty took over that team and transformed it into a top-three defense," Schmidt said. "I think Ty is proud of what they've accomplished together."
The Bobcats gave up 34.3 points (eighth in the Big Sky) and 472.5 yards (10th) per game in 2015, the season before Choate and Gregorak arrived in Bozeman.
Choate and Gregorak immediately improved the Bobcat defense. In 2016, MSU allowed 25.1 points (second in the Big Sky) and 388.6 yards (third) per game. In 2017, MSU allowed 25.4 points (second) and 422.1 yards (sixth) per game.
Montana State finished the 2018 season with an 8-5 overall record, advancing to the second round of the FCS playoffs. The Bobcats lost to eventual champion North Dakota State 52-10 on Dec. 1 to end their season.
Choate, who had his contract extended through the 2021 season by director of athletics Leon Costello last February, is in charge of assembling his own staff, and assistant coaches are typically hired on one-year contracts. Gregorak's contract is scheduled to expire on July 1. As an available coach, Gregorak will be a sought-after commodity, but nothing is imminent at this time.
"Officially, part of my job is to find Ty any and all coaching opportunities available," Schmidt said. "Whether or not he accepts the opportunities I present to him is his decision. He has not been trying to find other jobs while coaching for Montana State University."
It's unclear at this time what sparked Gregorak's departure, but Choate will continue shuffling his staff. In addition to his role as defensive coordinator, Gregorak also coached the linebackers. Byron Hout currently coaches the defensive line. Mark Orphey coached the secondary during the 2018 season but also will not return. Sources say Orphey is set to become the defensive backs coach at Utah State. Montana State has posted a job listing to fill Orphey's spot on the staff.
Montana State announced Gregorak's and Orphey's resignations late Tuesday.
Kane Ioane served as MSU's defensive coordinator prior to Gregorak's arrival. Ioane, a Billings Skyview High School graduate, played at MSU from 2000-04 and entered the coaching ranks as a graduate assistant in 2004 before landing a full-time job the next season. He primarily started to work with the linebackers in 2008 and served as the defensive coordinator in 2015. Ioane was the assistant head coach in Choate's first season at MSU before taking a position as a defensive quality control specialist at the University of Washington, where Ioane has been since.
MTN Sports' Scott Breen contributed to this report.