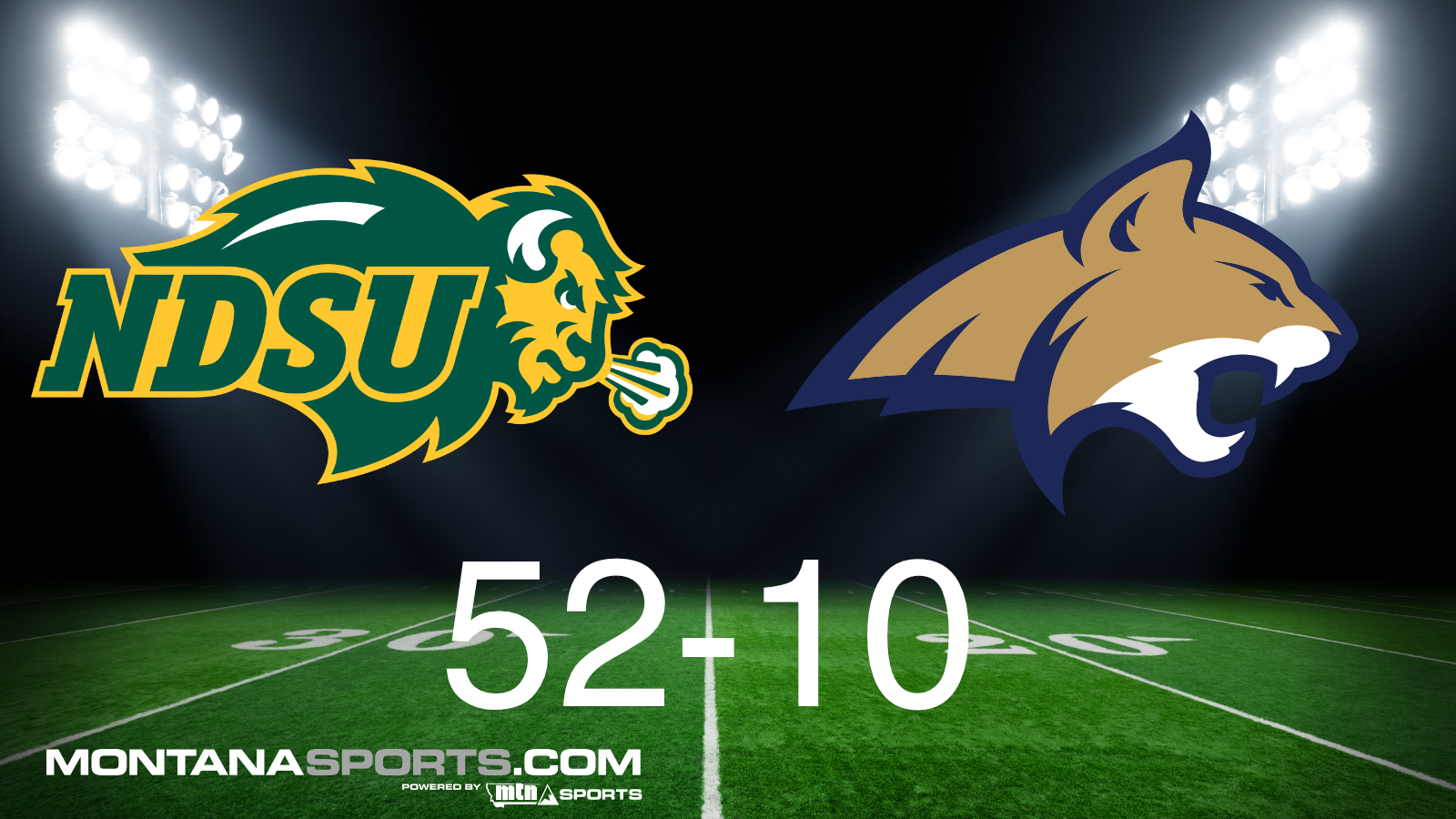 FARGO, N.D. — North Dakota State rushed for 407 yards and seven touchdowns in a 52-10 domination of Montana State in the second round of the FCS football playoffs Saturday at the Fargodome.
The Bobcats scored a field goal on their opening possession to take a 3-0 lead, but the Bison took control on the next series. Lance Dunn scored the first of his four rushing touchdowns to open the floodgates. NDSU scored 38 unanswered points in the first half to take a 38-3 halftime lead.
Montana State scored its first and only touchdown of the game in the third quarter when Troy Andersen broke free on a fourth-down carry. Andersen sprinted 51 yards to the end zone, scoring his 21st rushing touchdown of the season to set a new MSU single-season record. Don Hass had 20 rushing touchdowns in 1966.
NDSU, which is the defending FCS national champion and has won six of the past seven titles, added two more rushing touchdowns to close out the win. Dunn finished the game with 127 yards and four touchdowns on 11 carries, Bruce Anderson added 118 rushing yards and a touchdown, and Ty Brooks had 103 yards (on just six carries) and another rushing score.
TURNING POINT: After a 71-yard pass from Andersen to Kevin Kassis, Montana State was unable to find the end zone from the North Dakota State 4-yard line. The Bobcats took the ball out of Andersen's hands on the first two plays, electing for runs by Travis Jonsen and Kassis. Andersen's third-down pass fell incomplete, and MSU settled for a field goal. NDSU took the lead on the next series and scored touchdowns on its first five possessions, while the Bobcats' offense totaled just 89 yards the rest of the first half.
STAT OF THE GAME: North Dakota State dominated in the rushing game, totaling 407 yards on 44 carries for a 9.3 average. The Bison had three players eclipse 100 rushing yards in the game.
GAME BALLS: Dunn, the NDSU offensive line, and Andersen. The Bison offensive line opened up huge running lanes for multiple ball-carriers, headlined by Dunn. His four rushing touchdowns tied the NDSU playoff record. Andersen was one of the lone bright spots for Montana State, as he ran for 129 yards on 24 carries.
WHAT'S NEXT: Top-seeded North Dakota State (12-0) will play No. 8 Colgate (10-1) in the quarterfinal round of the FCS playoffs. Colgate defeated James Madison 23-20 in Saturday's second round. Montana State finishes its season with an 8-5 record and will enter the offseason to hit the recruiting trail ahead of the early signing period Dec. 19-21.